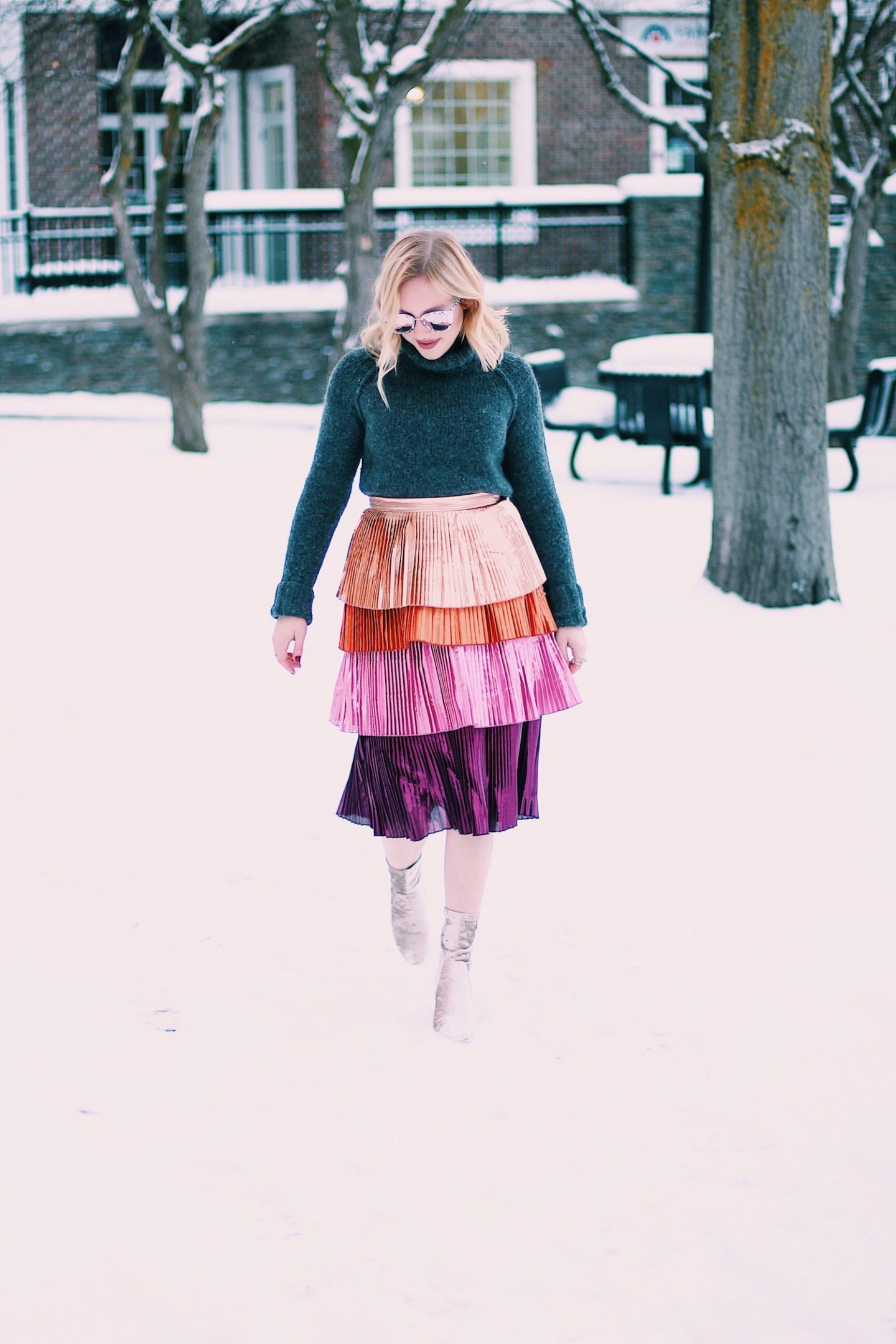 SWEATER || SKIRT || GLASSES || BOOTS
How in the heck is it 2018 already?  I'm both excited and a bit freaked out to be sharing the first post on hollyhabeck.com of the new year, but I have to say I'm mostly excited. 2017 brought *lots* of ups and downs, and I feel like in order to start 2018 on the right note, we need to take a moment to reconcile. That's why today's post is going to be a bit multifaceted. Starting a new year means also closing the old one, so I of course want to share with you some 2017 highlights. Then, we'll talk goals for the new year and end with the results from my recent reader survey + what you can expect from this platform in 2018. Sound good?
I feel like this post may be a bit selfish, because it's aiding me in both reflection and organization for the new year. Nonetheless though, I hope you enjoy it! I always like to know what's coming, so hopefully this will give you a good idea of where things are goin' around here.

2017: A Year in Review
January
Started the year off with lots of travel! Trips to Ft. Meyers, Disney World, Jamaica, and Pittsburgh all in the books.
Figured out how to combat acne with these Anti-Acne Green Tea Sugar Scrub Bars.
February
March
I posted much more consistently on the blog, starting out by sharing some tips on dry brushing.
I had fun collaborations this month with Le Petit Marsellais and Tom's.
I FINALLY started to nail down the manual settings on my camera + hone my editing skills, and I remember this post being one of the first fashion shoots done myself that I was actually proud of.
SWEATER || SKIRT || GLASSES || BOOTS
Steal My Look:

April
May
June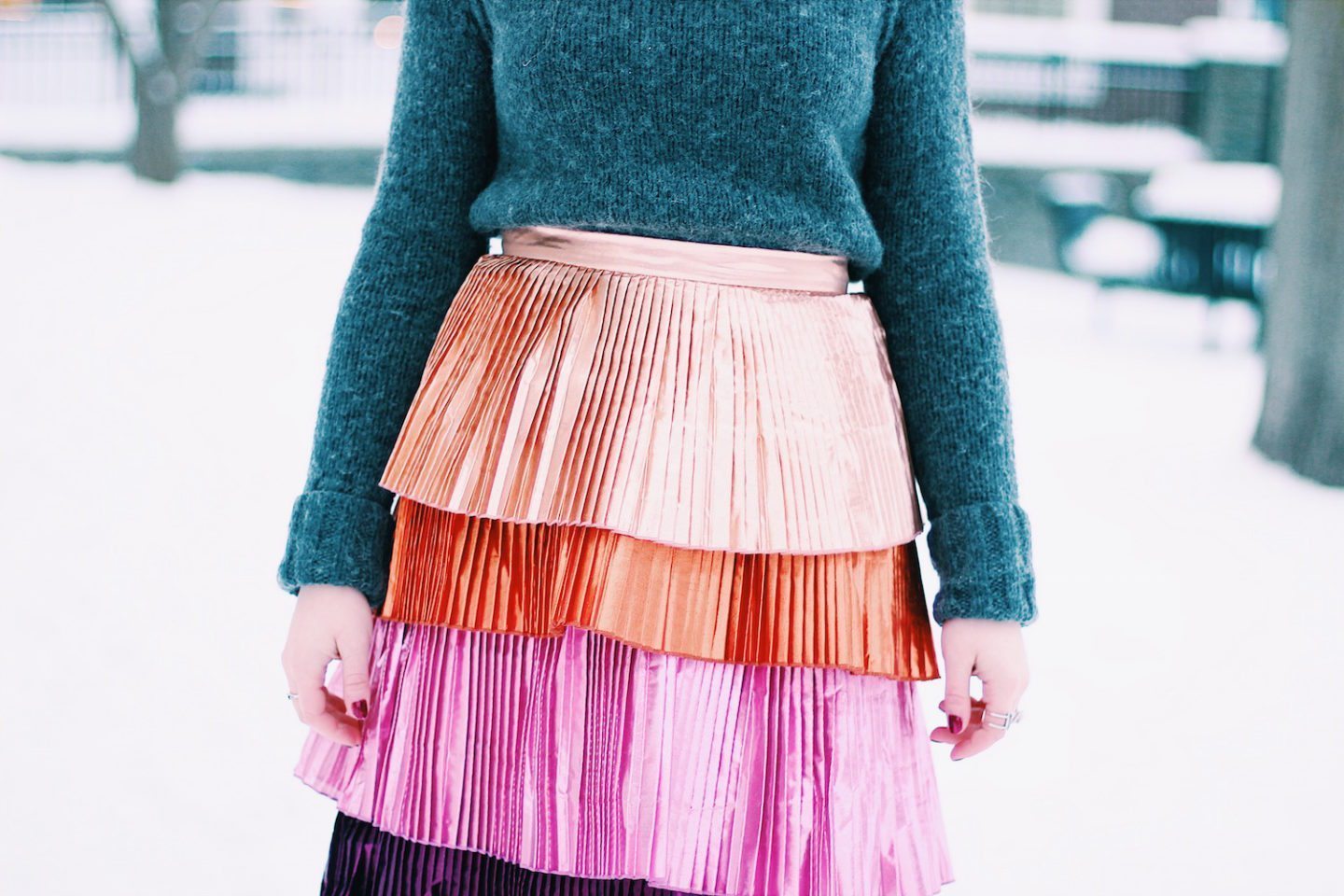 July
I did a lot of traveling this month! And one of the most exciting things was that I got to meet a few of my favorite celebs at the Vampire Diaries Convention in NJ (read the recap here).
I attended Her Conference and got to meet tons of bada$$ blogger babes while I was there (recap here).
August
I started a new workout program, and finally got back to my wellness roots with this post.
I worked on a lot of really fun collaborations this month, with brands like Neutrogena, illy Coffee, and Fiji Water.
I visited one of my favorite cities, Newport RI, for the first time (recap here).
September
I started reading more often and shared some of my favorite books in this post.
October
November
I finally got my sh*t together and posted more on the blog this month than any other month in 2017.
I shared our holiday cards + got to feature Pixie and Brooke in one of my projects!
I shared my first vlog, which included shots from a bridal show I attended in my hometown.
December
SWEATER || SKIRT || GLASSES || BOOTS
My Goals for 2018
2017 was a real, but I'll be damned if I came this far to only come this far. Here are a few of the goals I have for the new year:
Drink more water and less Diet Coke
Start a consistent workout routine
Worry less about the future
Read for 30 minutes every night before bed
Start writing again (long before I had a blog, I did a lot of creative writing…definitely something I want to get back into in 2018)
Start putting myself out there and pitching more brands
Travel as much as I possibly can
Share more unfiltered moments & worry less about appearing perfect
Reader Survey Results + What to Expect in 2018
Not going to lie, this post is *way* longer than I expected it to be…this is actually the third time I've had to revisit it, since it's taken so long to write! Who knew rounding up an entire year could be so time consuming? Haha.
Anyways, the last thing I wanted to touch upon real quick is the results from my recent reader survey and also what you can expect from this platform in the new year. I hadn't done a reader survey in QUITE awhile, and I'm really happy that I did this year, because I got such good insight on what you guys want to see.
To put it simply, there was an overwhelming desire for more beauty related content from ya'll. TONS of you wanted to see more makeup tutorials and general beauty tips, so you can absolutely expect that comin' your way! I'm also working on more travel/lifestyle content as well, since some of you mentioned you like to see a variety of content…not just fashion!
One other element I'll be focusing on in the new year is sharing more wellness tips. This is a something I was very interested in sharing when I first started blogging, so I want to get back to that a bit and also encourage myself to lead a healthier lifestyle this year.
Thanks so much for reading through this incredibly lengthy year-end review (if you're still with me, that is)…and do please tell me, what's your favorite type of blog content to read? Always looking for more insight!