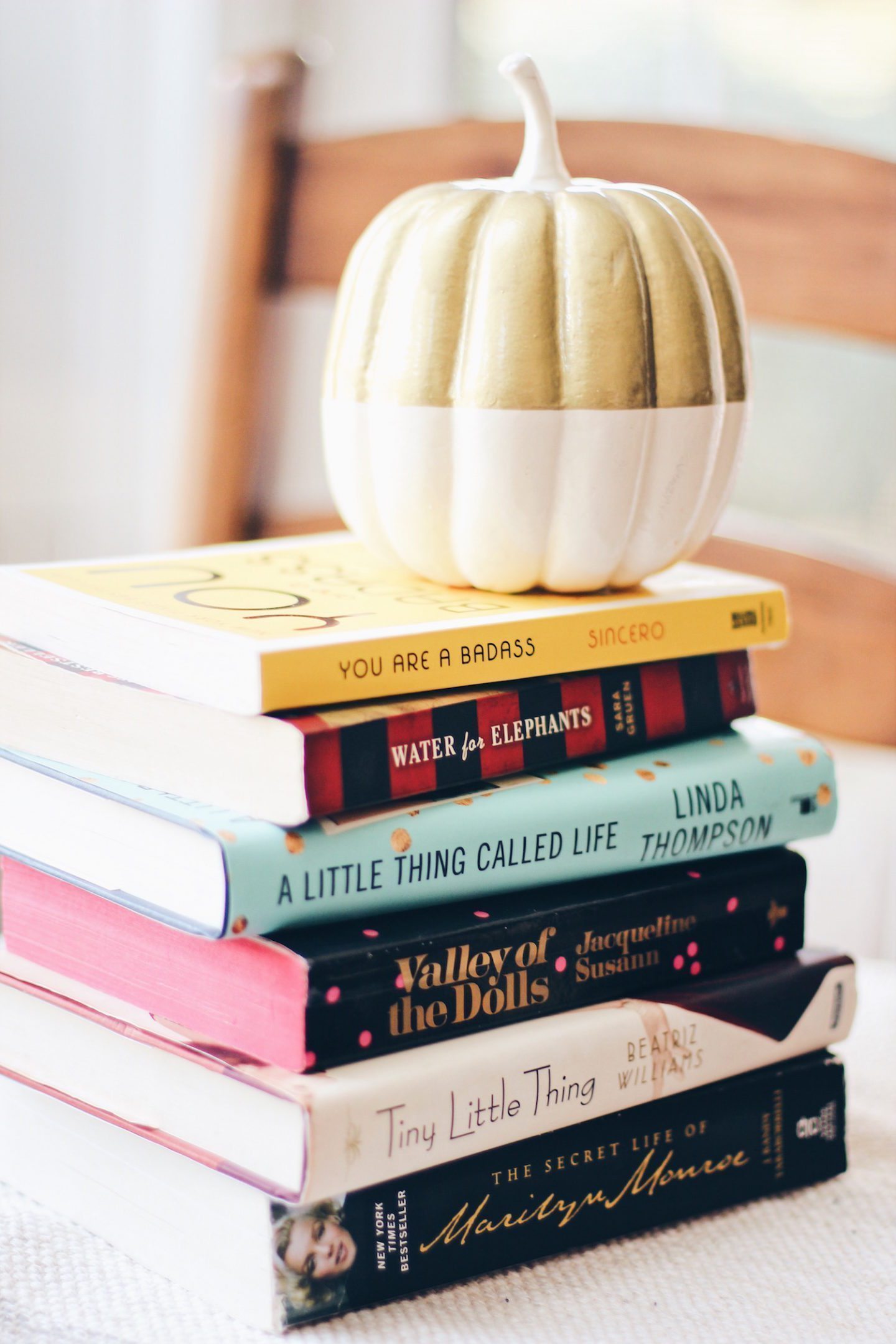 As a kid, my days and nights often revolved around the latest book I was reading. Even now, I still remember my parents nagging me to put down the Harry Potter books at family functions and interact with my relatives (which was, of course, a waste of my parents' time 😌).
In my teenage years however, the stories that used to preoccupy my entire days as a child suddenly seemed unimportant. Cause let's face it, when you're 16 & stupid, ain't nobody got time for that. Recently though, I've reacquainted myself with the old hobby, and I dare say I'm an addict yet again. I've whipped through lotsa books over the past few months, so I wanted to be sure to roundup some of my favorites in hopes of inspiring your fall reading list. Perhaps I'll make this a quarterly, seasonal series?
Either way, fall is THE perfect time to pick up a few good books (even if you've fallen out of the habit for awhile, like I did). Build a fire, make a skinny peppermint hot chocolate, and grab one of these addicting reads below for a cozy night in. I promise you'll enjoy it!
I'm very intrigued by Old Hollywood and some of the greatest, most iconic stars of that time period, so this Marilyn Monroe tell-all was an obvious selection for me. I loved getting an insight into Monroe's amazing, yet tragic life, and I like that this biography actually debunks many of the myths about her that continue to circulate! If you're looking for a good non-fiction to add to your fall reading list, definitely start here. Some parts of her story are wild enough you might even forget it all really did happen 🙂
Okay, we've probably all seen this book at least a few times gracing the Instagrams of some of our favorite bloggers, entrepreneurs, etc. I feel like everyone and their brother has read, or at least heard about, this book! I'm putting it on this list however, just on the off chance that you haven't. You Are a Badass is an a great book if you're looking for some inspiration and direction, and there's tons of actionable pieces of advice in there to actually get what ya want out of life. I seriously loved the author's perspective, and I'm definitely keeping this read on hand to dive into sometime again.
P.S. It does NOT read like a self help book at all, if you're concerned about that ☺️
A Little Thing Called Life is forever one of my favorite memoirs. I'm a huge Elvis Presley fan, so snagging a copy of this woman's tale was at the top of my to-do list when it hit shelves. Linda Thompson was the long-time girlfriend of the King himself, and that part of her story alone is a complete page turner. But did I mention that she was ALSO married to Caitlyn Jenner? Yep. She's the mom of Brody and Brandon Jenner. I didn't actually know who Linda Thompson was prior to hearing about this book, but I'm totally a fan of her now. What a lady! Definitely a unique story she shares, and totally a badass addition to your fall reading list.
This book may have just recently celebrated its 50th b-day (so sorry to those of you who are already familiar with it), but it really is a must-read. It's quite juicy if you love all things sex, drugs, & drama related (I do), and it's a total classic. I just got around to this book recently, but I could barely put it down until I reached the end.
I got this book from a friend, and it was another one that I flew right through. There's plenty of sex, drama, and political scandal to keep almost anyone entertained. Oh, and did I mention it all starts out with the main character being blackmailed? Yeah, it's that good.
An oldie but goodie, I finally got around to reading Water for Elephants recently. While you've likely seen the movie by now, I'd say the book is even better. I watched the movie several years ago and loved it, but I really enjoyed reading this now since I had kind of forgotten what happened. It's also relatively short, and I got through the whole thing in a few days!
What's on your fall reading list? I need some new recommendations!