This shop has been compensated by Collective Bias, Inc. and its advertiser. All opinions are mine alone. #ProPlanPossibilities #CollectiveBias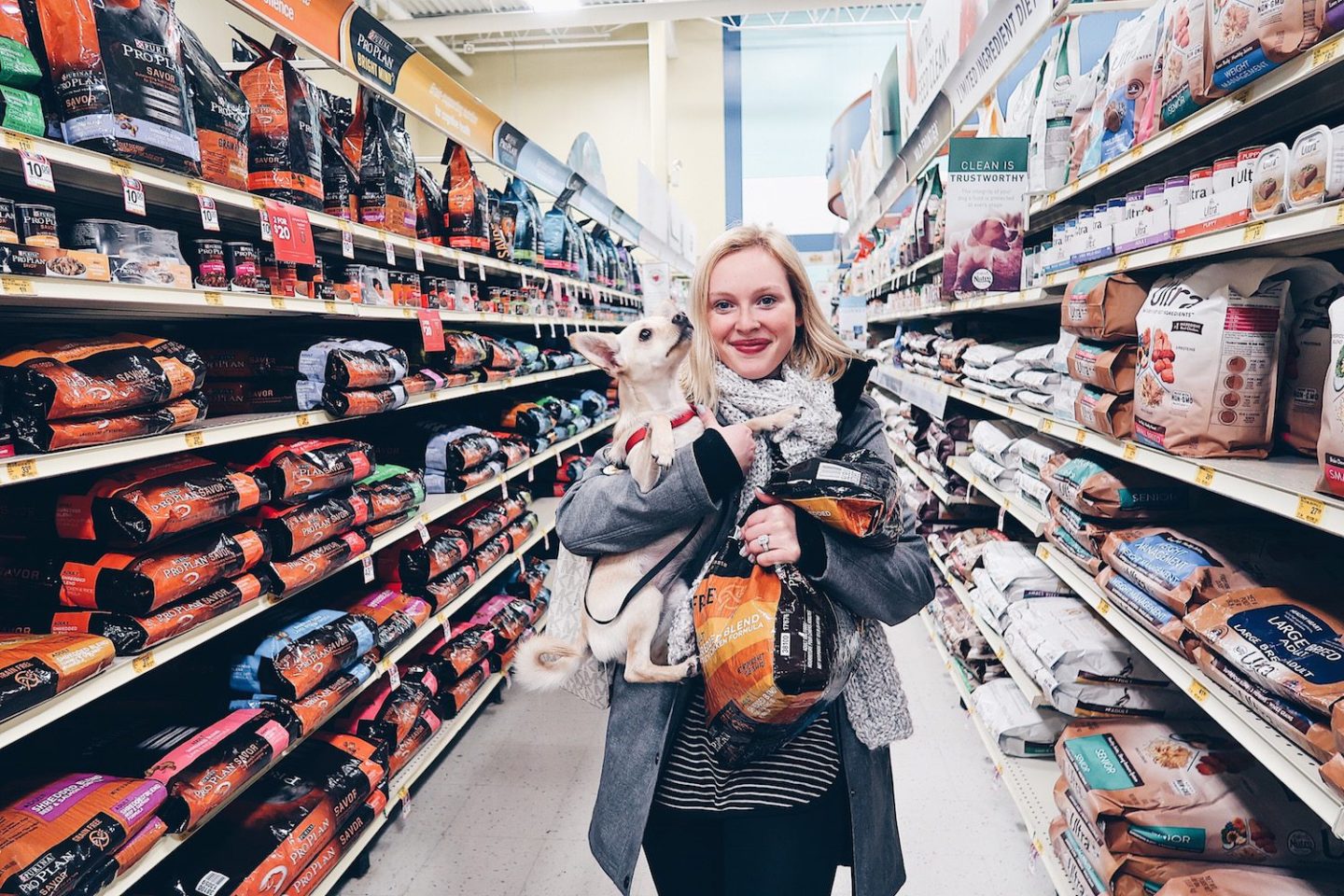 Last Valentine's Day weekend, R. & I made a big decision. We bought a puppy!…Annnnnd we became first time dog owners. We weren't really in the market for a dog, but when we stumbled upon Pixie's adorable photos on Craigslist, we just couldn't resist.
I still remember Pixie's first night with us, which wasn't really at "home", since I was living in my college apartment and Rich was just visiting for the weekend from Pittsburgh, where he was interning. It seems crazy now, but Rich actually couldn't sleep that night because he thought we had made a huge mistake. We weren't ready for a dog, were we? And what were we going to do with her during the day, while I was in classes and he was at work? Were we really capable of pulling this off?
Flash forward to about eight months later, and the answer is of course a resounding yes! Though it wasn't always easy, our lives have been made so much better by becoming first time dog owners.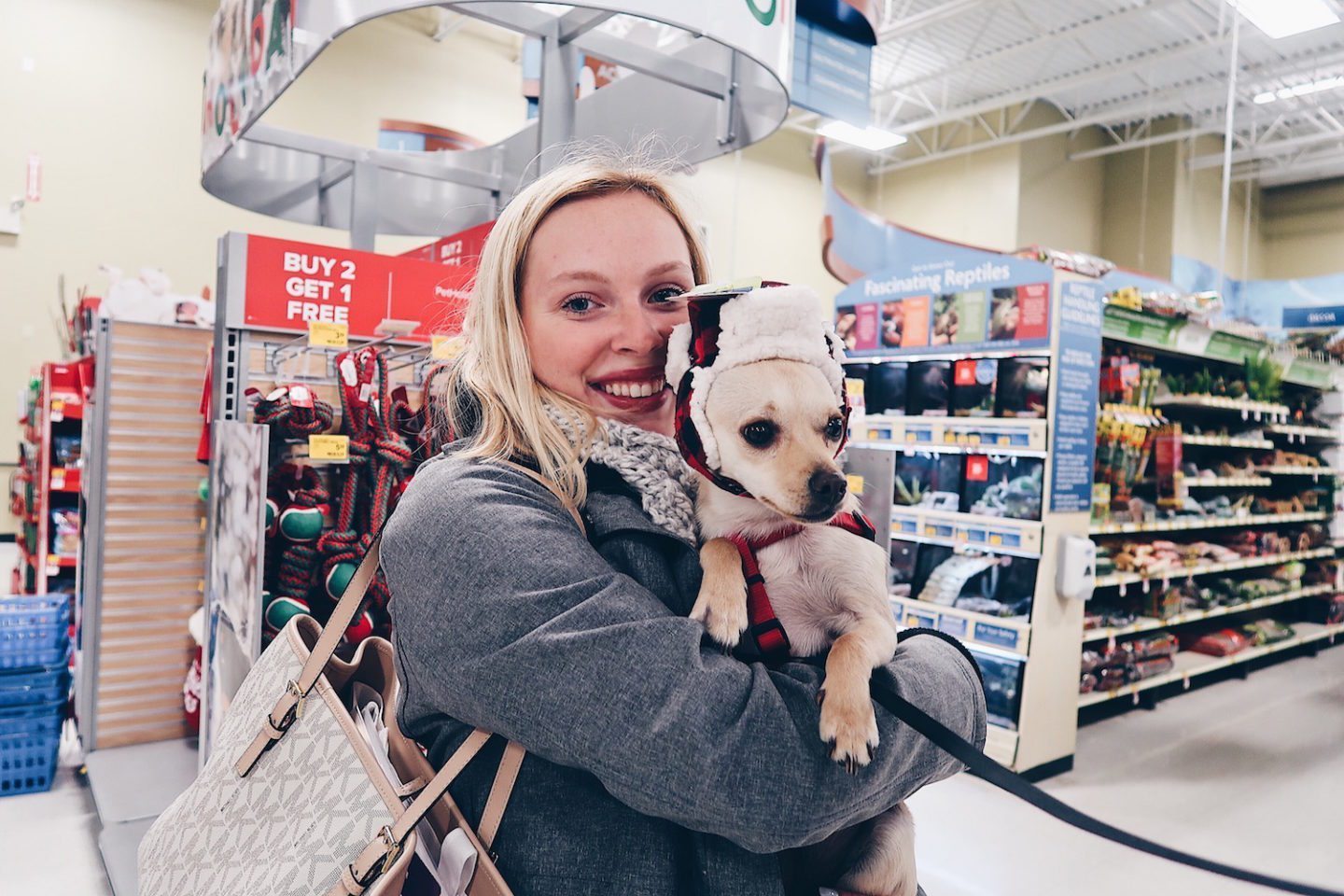 Here are a few of the tips and tricks we've learned along the way:
Don't Underestimate the Responsibility
Caring for a dog, even if it's not a puppy, is a lot of work. It's not as simple as making sure he or she has access to food and water (though that's obviously highly important). There's also other considerations, like scheduling vet appointments and making sure you spend enough time playing with and giving your pup attention every day.
Do Your Research
If you haven't found your new pet friend yet, don't stress. This gives you time to do your research. Don't just base your decision off of whatever dog looks the cutest at the shelter or online. Look into what breeds might be best for your lifestyle, and always remember that your dog will hopefully be a permanent part of your family for many years to come! It's an important decision, and not one to take lightly.
Puppy Proof Your House
Even if you're adopting an older dog, remember that animals will react differently to the items in your house than you might. They won't necessarily know at first that they're not allowed to jump on the furniture or even chew up that rug you love so much. Take a look around your home and make sure you take care of anything that could be potentially harmful to your pet ahead of time.
Don't Freak Out
Like I said, R. and I were super concerned once we brought Pixie home. We were even more stressed when she wasn't picking up on house training right away and started having severe anxiety whenever we weren't home. These are all issues that you'll have to work through, and you should of course understand that. However, don't freak out. You WILL get used to your new pet, and it will all be worth it in the end.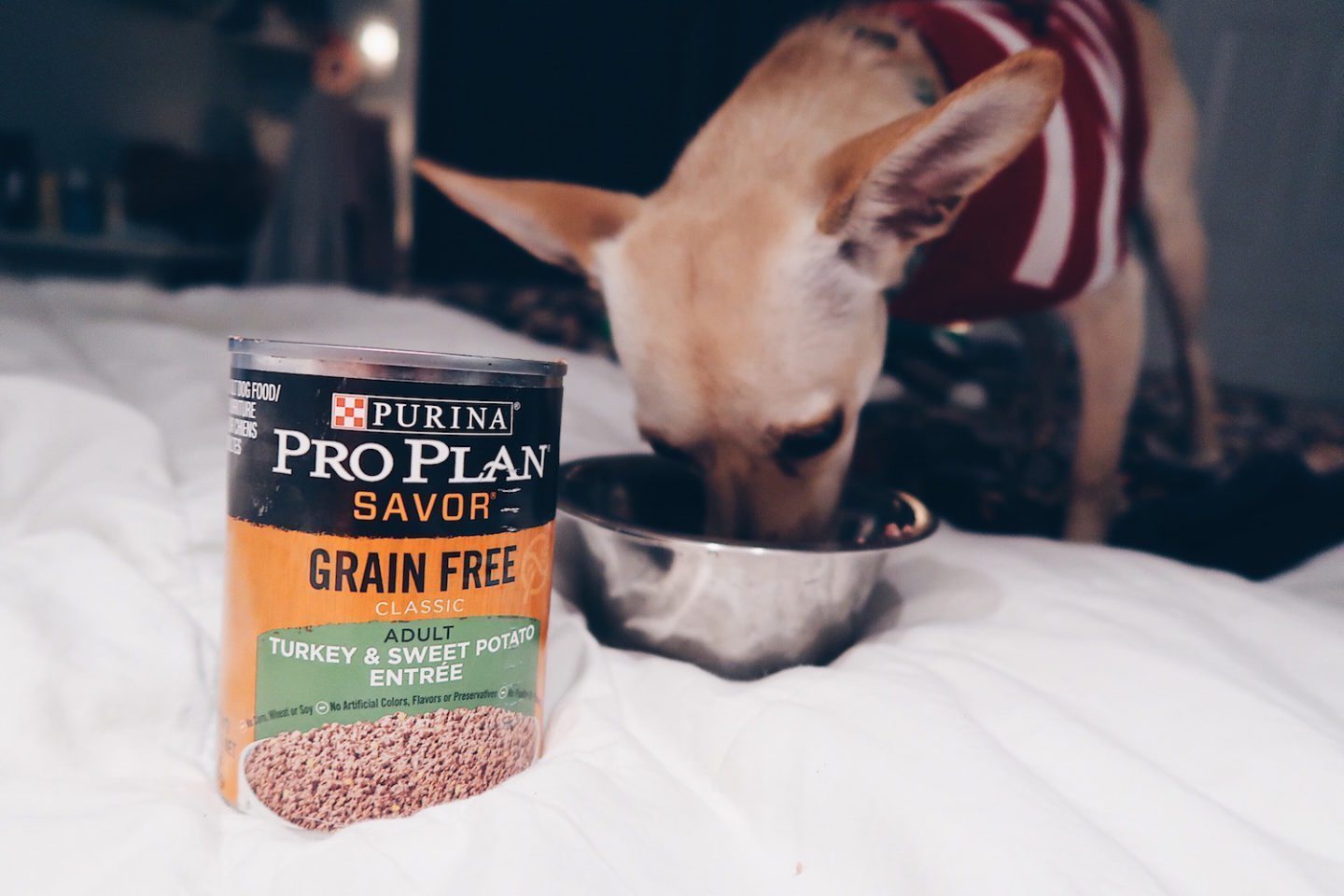 And Lastly…Find the Right Food & Nutrition for Your Dog
All of the above being said, as first time dog owners, we are still tackling some new territory and learning more every day about caring for our pup.
One of our most recent challenges has been finding the right food for Pixie, now that she is reaching adulthood. Even when she was a puppy, I never really felt like we nailed down the perfect formula for her. She's suffered from some mild digestive issues in the past, and we ended up changing her food around when she was younger a lot more than I would have liked. Now that she's becoming an adult though, R. and I want to find the perfect nutritional formula that Pixie can be on for years to come. We're SO sick of messing around and changing brands all the time.
That's why I was so happy to learn about Purina® Pro Plan® at PetSmart. R. and I love taking the dogs shopping with us, and this trip was great because I was able to purchase Pixie's new adult food. The best part about this whole process too, was that I was able to research the best food for her through the easy to navigate Pro Plan University website.
The myPlan tool on the site is especially useful, because it will actually help you find the best formula of food for your pet. All you have to do is answer a few simple questions. This was perfect for us, being first time dog owners.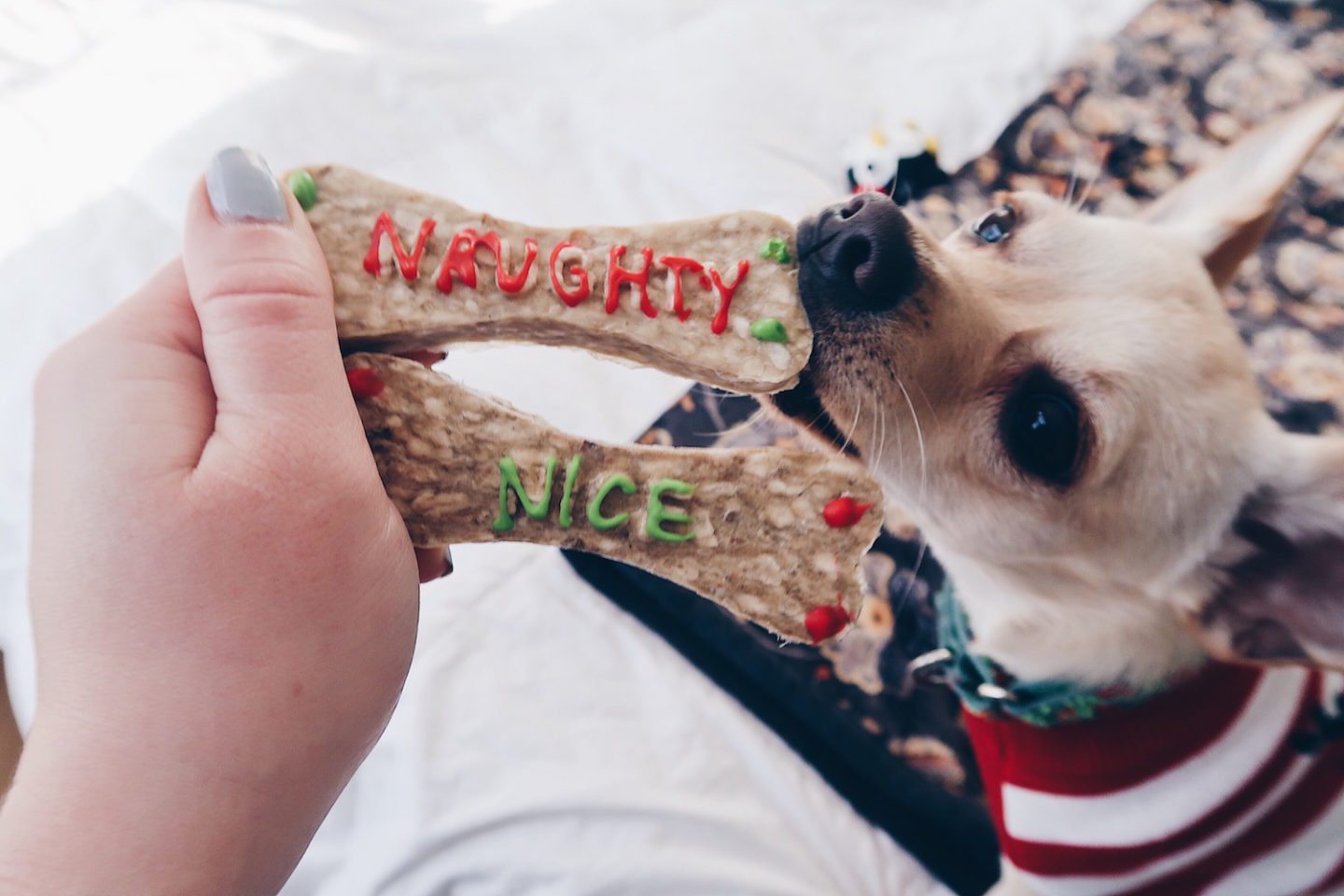 Choosing the right food for your first dog can be intimidating, but all you really need to do is:
Head to the Pro Plan University website
Click on the myPlan tool
Take the in-depth quiz about your pet
Receive your results & go grab your Pro Plan variety at PetSmart
And don't forget to score some deals through Shopkick when shopping for Purina Pro Plan at PetSmart…I so wish we had taken advantage of this while we were there!
There's also several in-store offers going on, too (through 12/3/17):
Pro Plan dry dog food 47lb-50lb bags – $49.99
Pro Plan wet dog food 12ct Variety Packs – Save $4
Pro Plan dry cat food 5.5-7lb bags – Save $2
In the end, we decided to opt for the Pro Plan® SAVOR® Grain Free Adult Dog Food. We also picked up some meal enhancements and a can of Purina Pro Plain wet food to try out, too. These options were all perfect for Pixie, since she's now an adult and we've been wanting to try grain free for awhile now.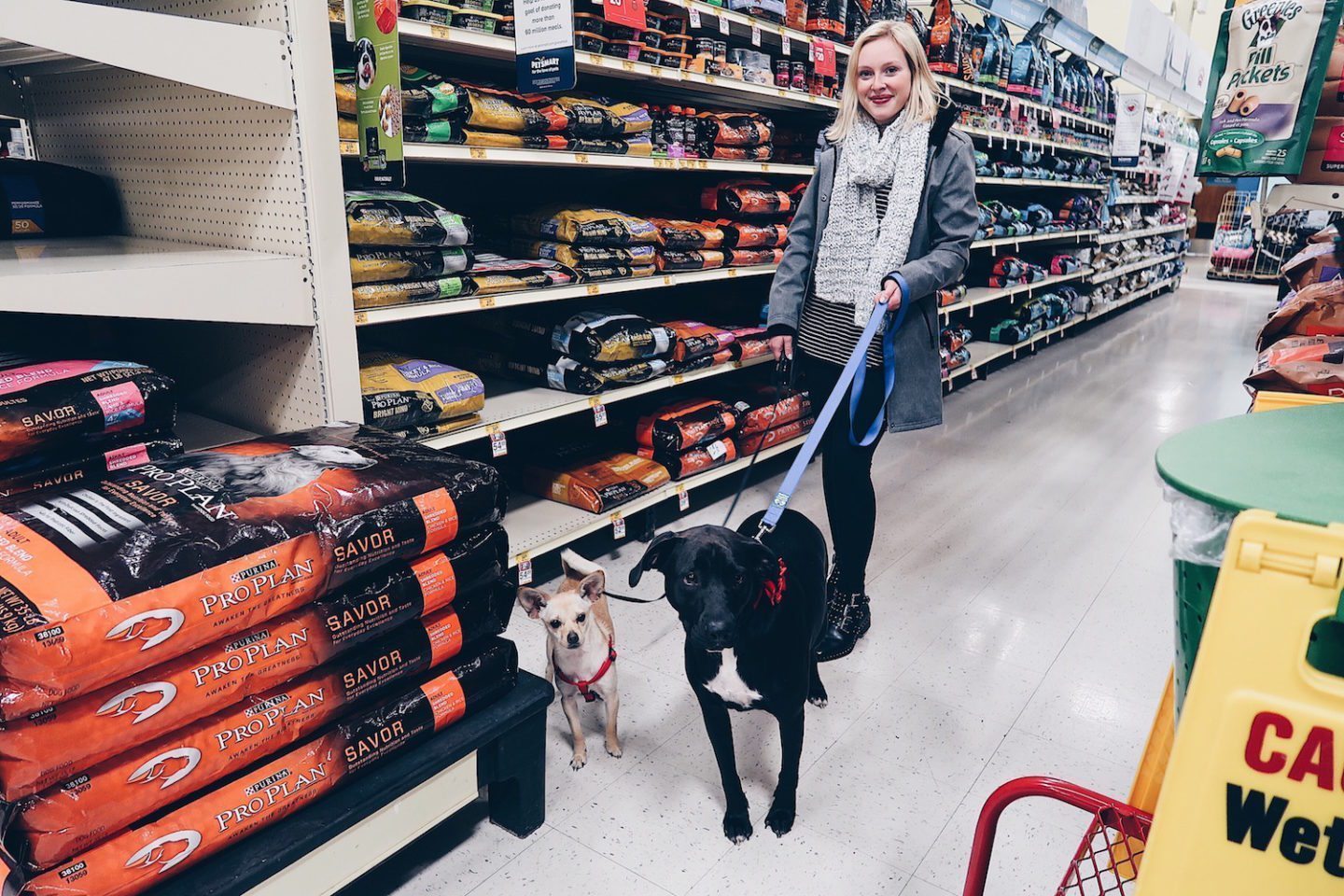 There's other Purina Pro Plan options to check out though, since Pixie's formula may or may not be a fit for your pet. This is definitely helpful if you need food formulated to accommodate taste preferences, age, dietary restrictions, activity level, etc. There are also purpose-driven recipes as well, such as  grain-free or no corn, wheat or soy options to satisfy picky eaters, supporting cognitive health and more. All of the ingredients are carefully and purposefully selected too, which was a MAJOR requirement for us when choosing food for Pixie.
And can we just talk about how much fun the dogs had on our little outing? Obviously R. and I were initially trying to run an errand, but it actually turned out to be much more. We really enjoyed looking at some of the holiday displays, and the dogs got to choose LOTS of new toys!
Oh, and Pixie also got a new holiday sweater ☺️
I'd say our little shopping spree was quite the success!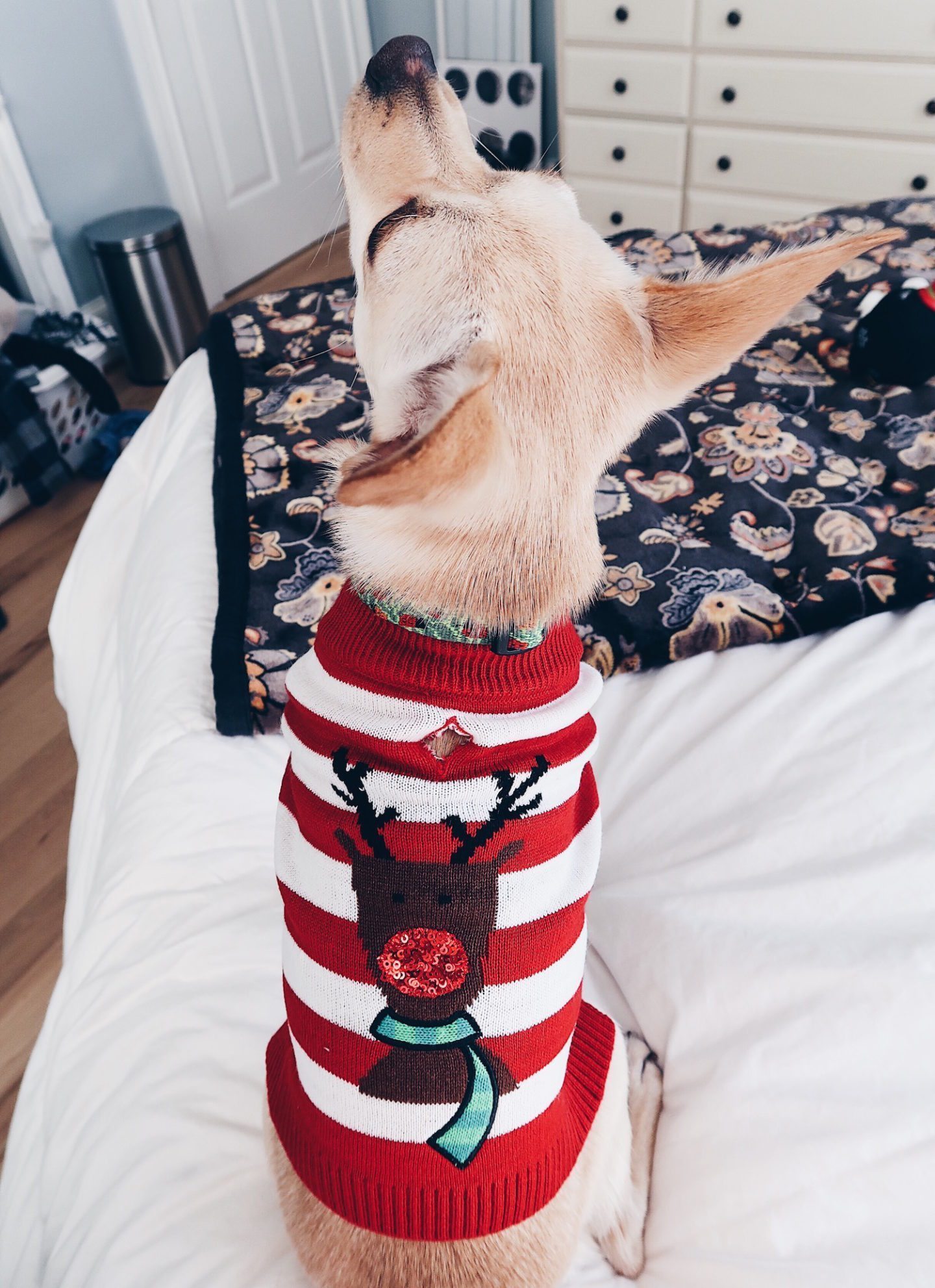 Check out the Purina Pro Plan Social Hub for a variety of tutorials to spoil your pet!
What's been your biggest struggle as a first time pet owner?