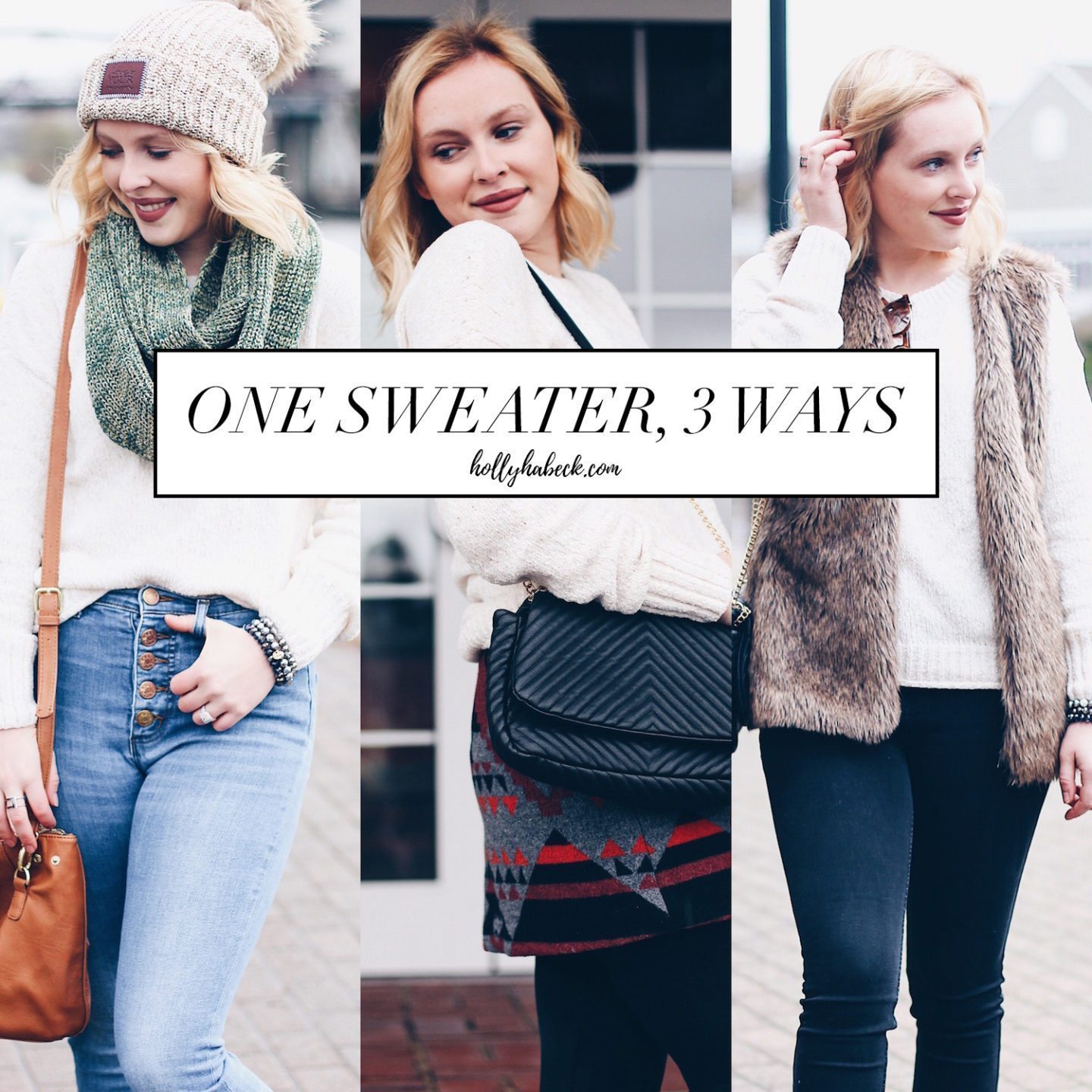 A few days ago, I was shopping around in Kohl's (with no intention of actually buying anything) when I stumbled upon this cozy white sweater. I went back and forth for several minutes about whether I really needed to make the purchase, since I've been trying to save up money to start my holiday shopping. After walking around the store a few times, periodically and indecisively putting the sweater back on the shelf just to pick it back up again, I decided I couldn't resist the deal. It's on sale for $17.99 right now, which is essentially 50% off the original price of $36 ☺️ And did I mention it's soft as a freaking baby's bottom?!
Anyways, besides the fact that the sweater was super affordably priced, I bought it because I knew it would probably become one of my go-to cold weather pieces. There's so many ways to style a white sweater (because neutrals 😍), and that exact thought I had in Kohl's was the inspiration for today's post.
Like I said, SO many ways to style a white sweater. That's why I want to share with you a few easy-to-recreate outfits I'm loving and also how you can create completely different looks with the same piece. All three of these outfits emulate very different sides of my personal style, and I'm the kind of girl that lives for some good options. I may be indecisive at times, but I'd still rather have lots of options to chose from than be confined to just one style!
I hope you love these three looks and that they give you some inspiration for getting the most out of your wardrobe! I definitely don't have the time or money to NOT be somewhat of an outfit repeater, but doing different takes on the same piece certainly help to keep things fresh and fun 😚.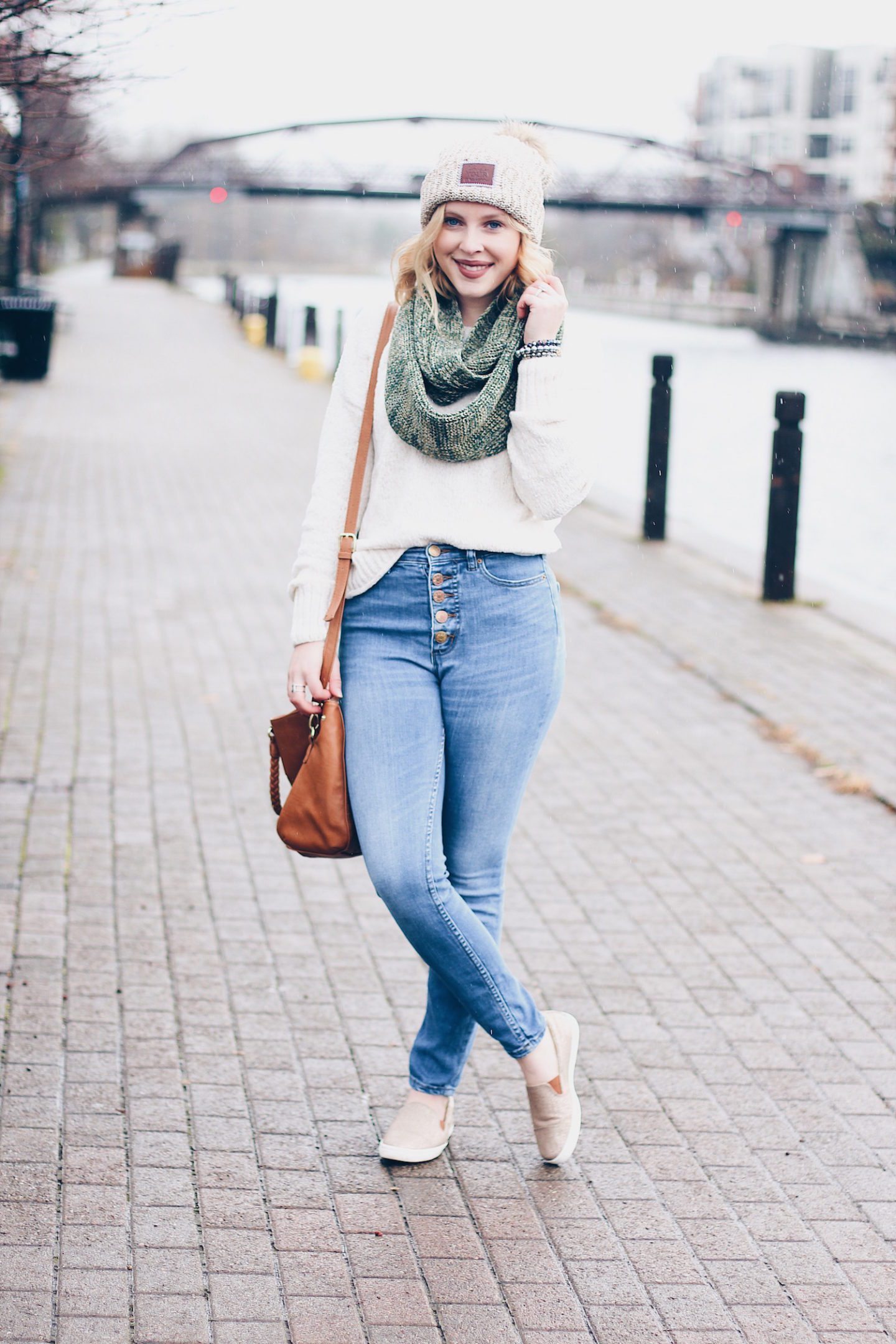 No. 1: The Cozy AF Look
Okay, can I just say how much I LOVE this first style? It's so comfy and easy to replicate. This is the type of outfit I wear if I need to get some serious work done, but I still want to look respectable.
Essentially, it's my go-to coffee shop uniform.
I also adore this new hat and scarf I got from Love Your Melon, which both go perfectly with almost any cozy sweater. For those of you who don't know, Love Your Melon is an apparel brand that donates 50% of their proceeds to the fight against pediatric cancer. I recently shared a post on 5 Ethical Fashion Brands You Need to Know, and I forgot to put this one on the list (there are actually SO many I missed), so I wanted to share them with you in this post…especially since their hats and scarves are amazing for this time of the year! I feel like they make incredible holiday gifts too, and they're super special since they're donating half the proceeds to a great cause.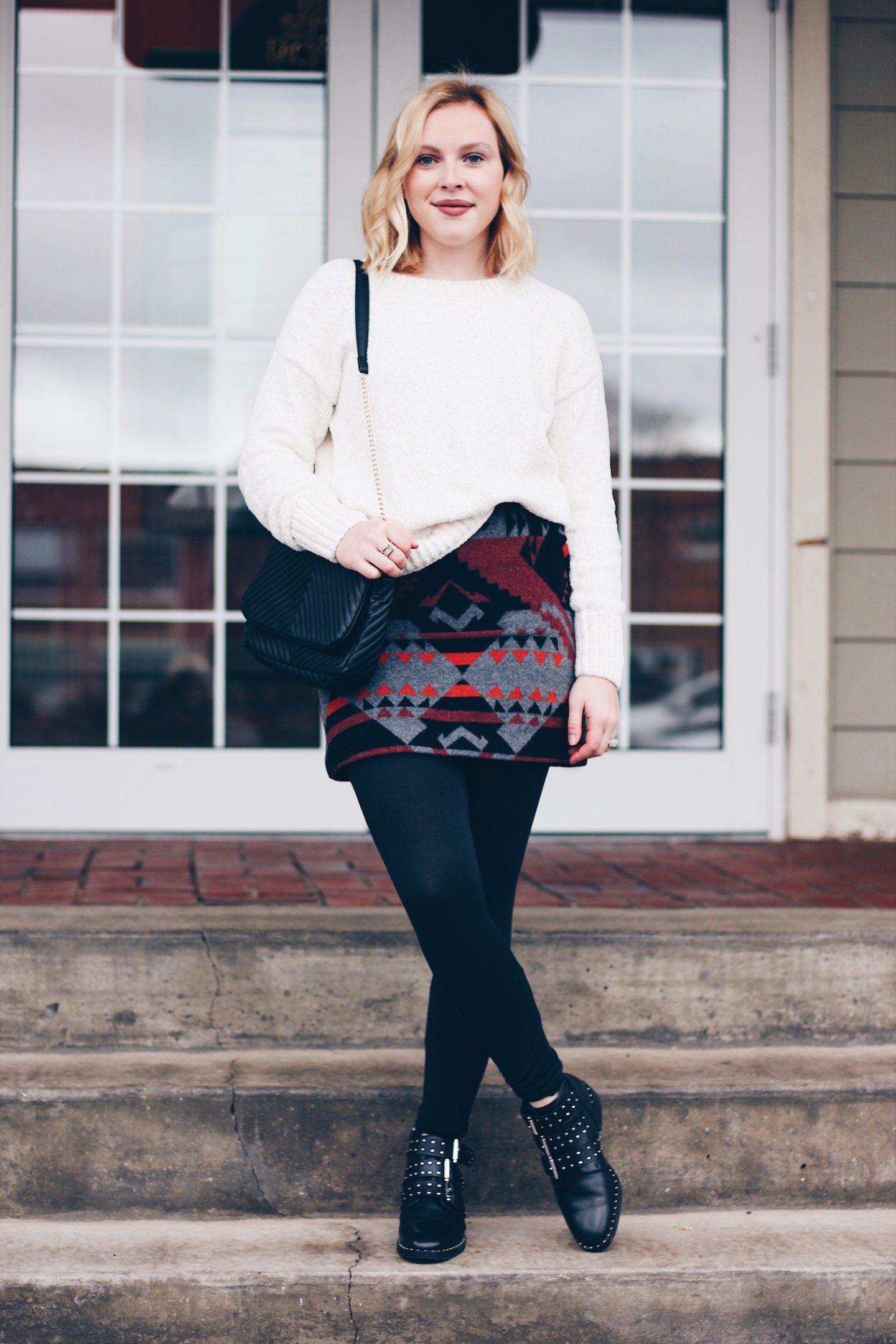 No. 2: The Feminine, Yet Edgy Look
This second look is probably the most true to my personal style. Though I'd wear any of these outfits on any given day, mixing feminine and edgy pieces is pretty much my favorite thing to do! I LOVE contrast. That's why I paired this fuzzy sweater with a mini skirt and my studded boots from ASOS.
Fun, no?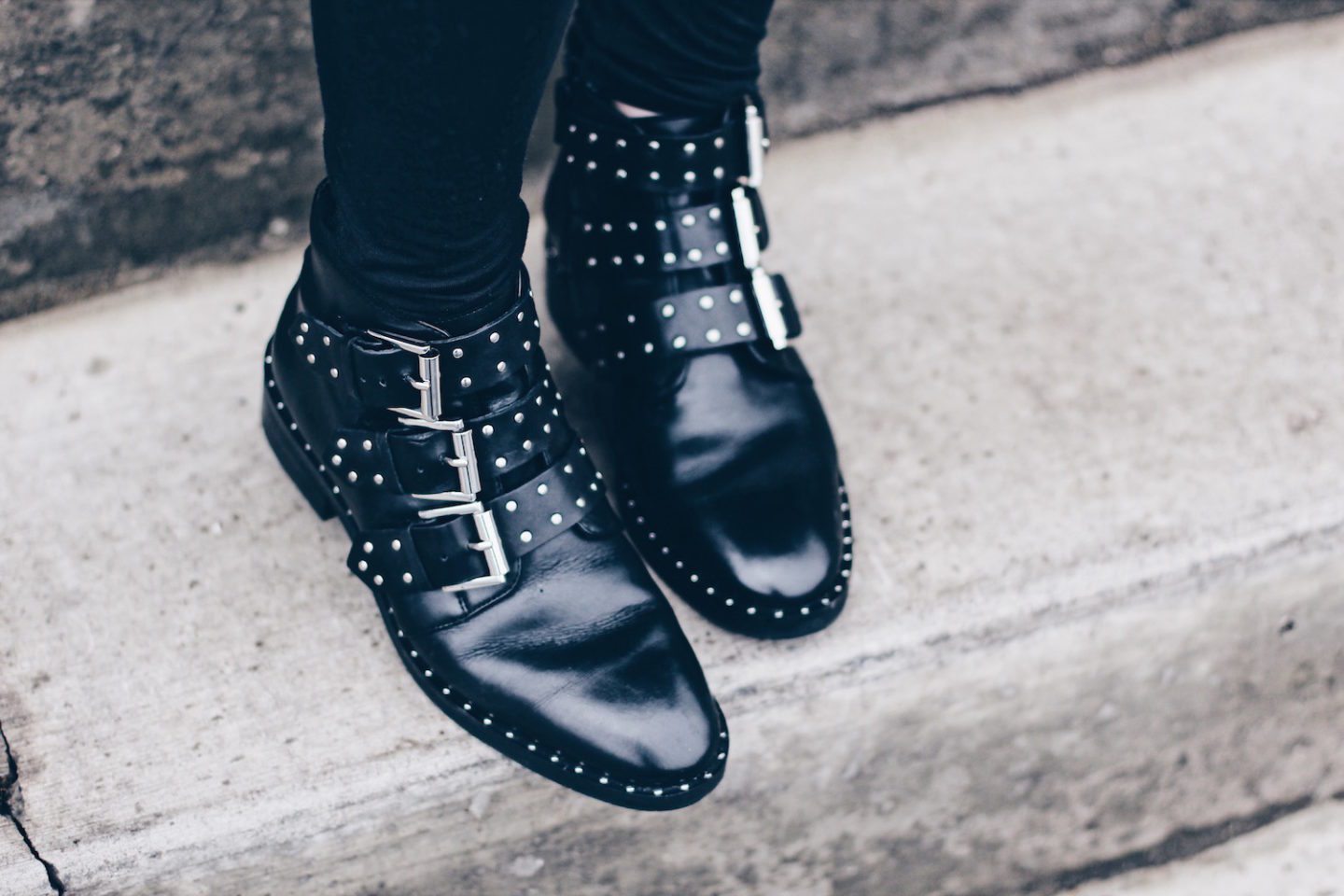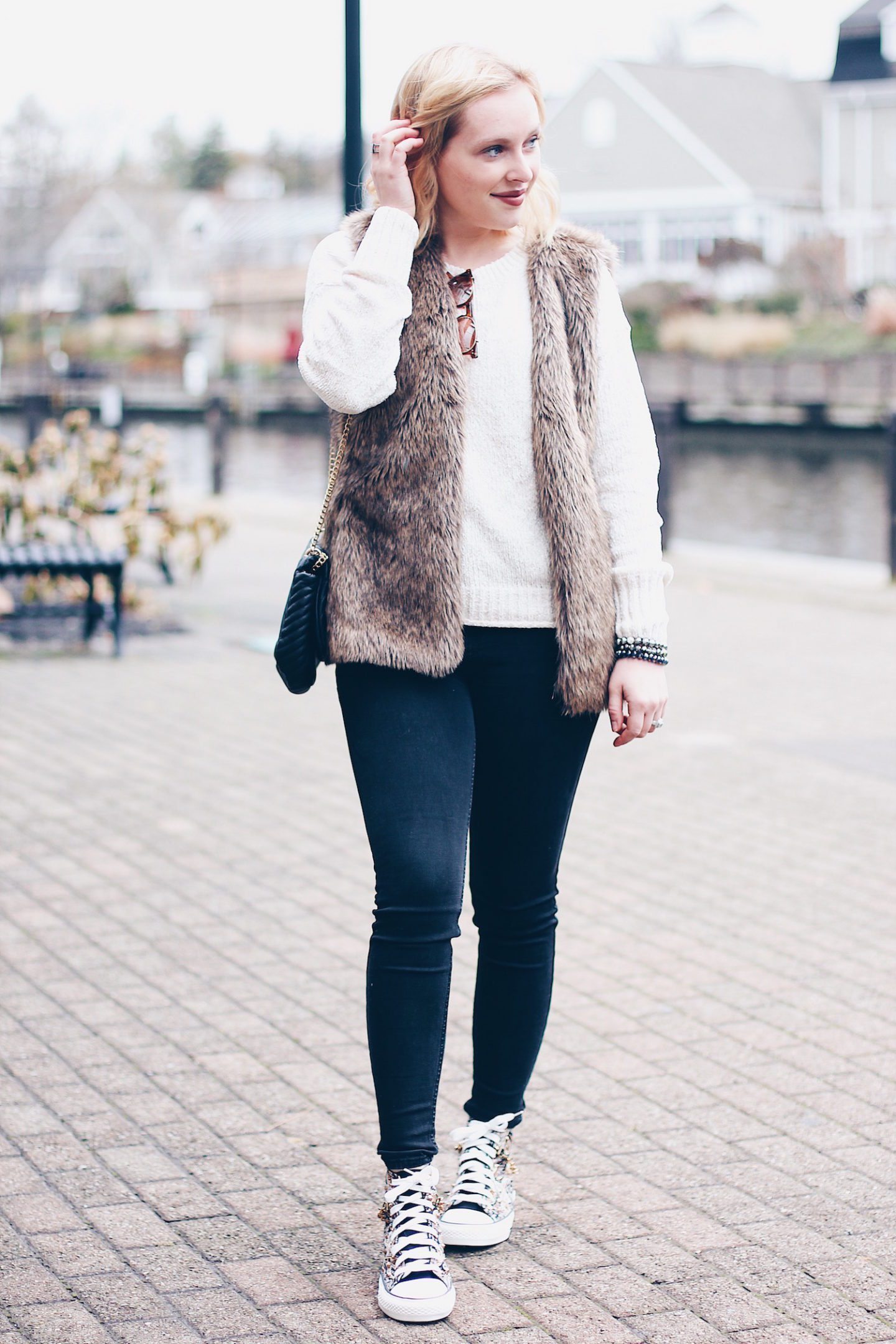 No. 3: The Casual, Yet Fashion Forward Look
This last look I created was very exciting for me, because I got to throw on my new Nasty Gal paisley sneaks. I got them for a total steal ($15!!!!) when there was a site wide 50% off sale a few week ago (keep an eye on my 'Sale Alerts' page, so you don't miss out on deals like this in the future 😉).
I love the edginess of these high tops, and throwing on my faux fur vest really gave this cozy white sweater a whole new vibe.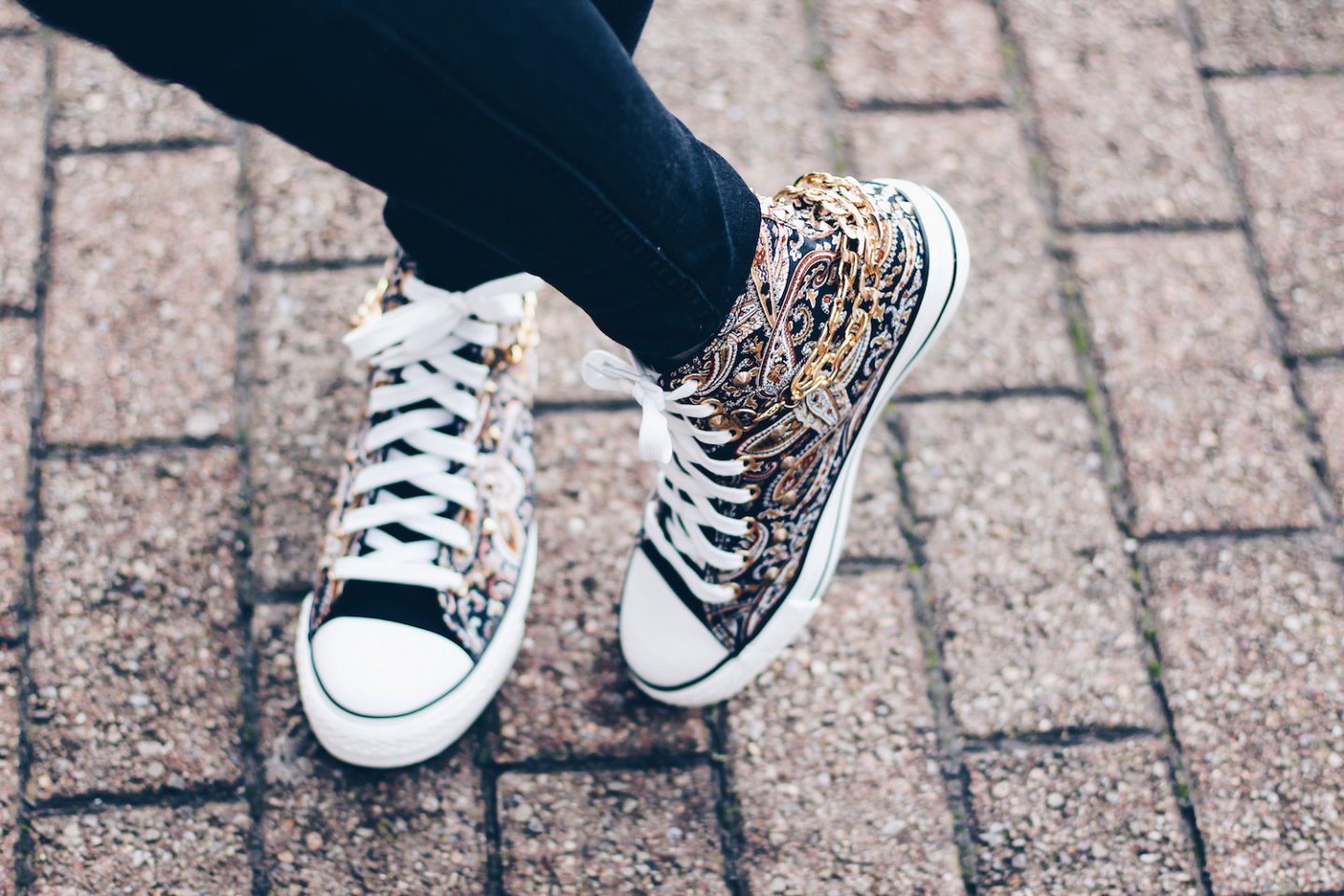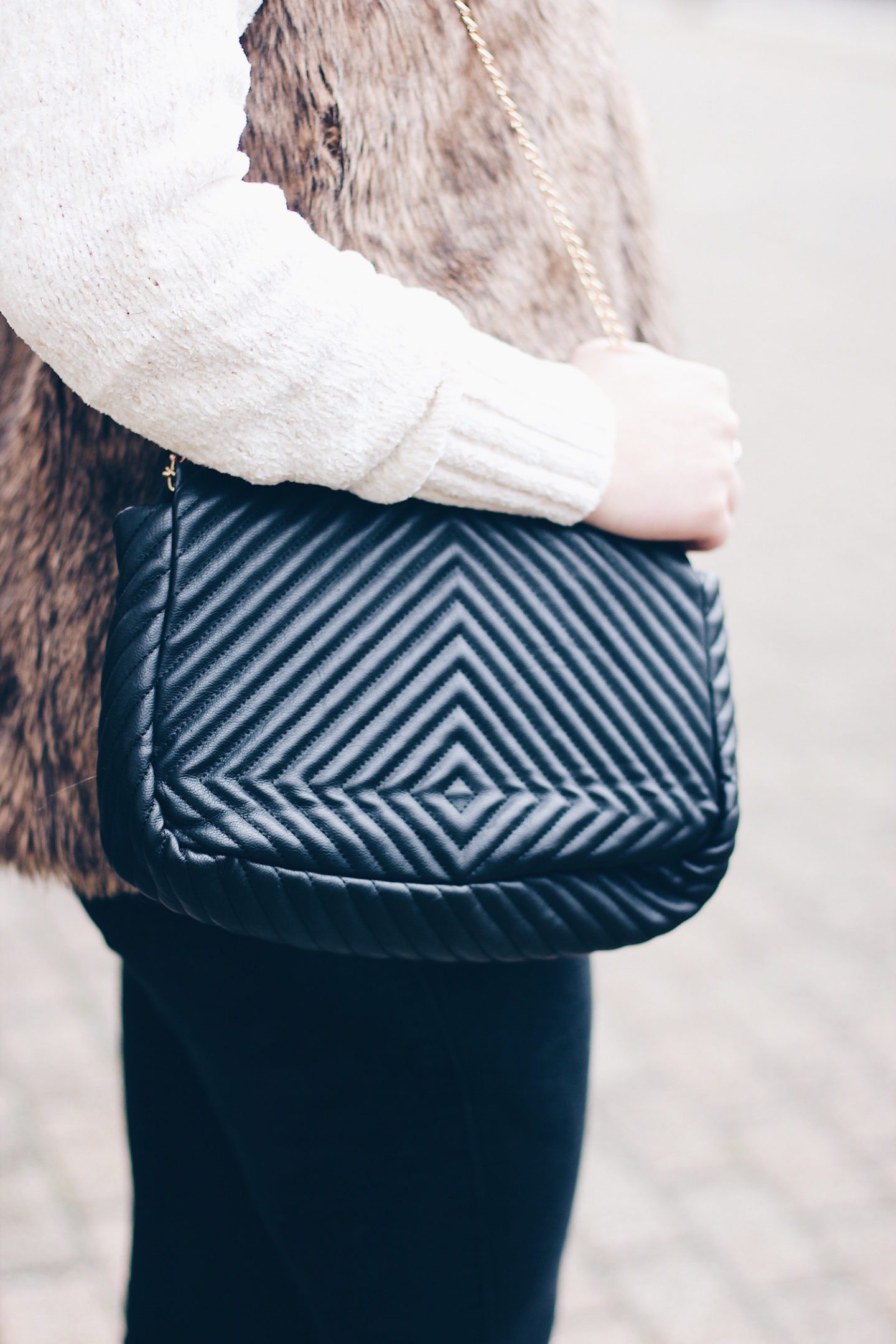 Which look is your favorite? Number 1, 2, or 3? And what's your favorite item that goes with anything?