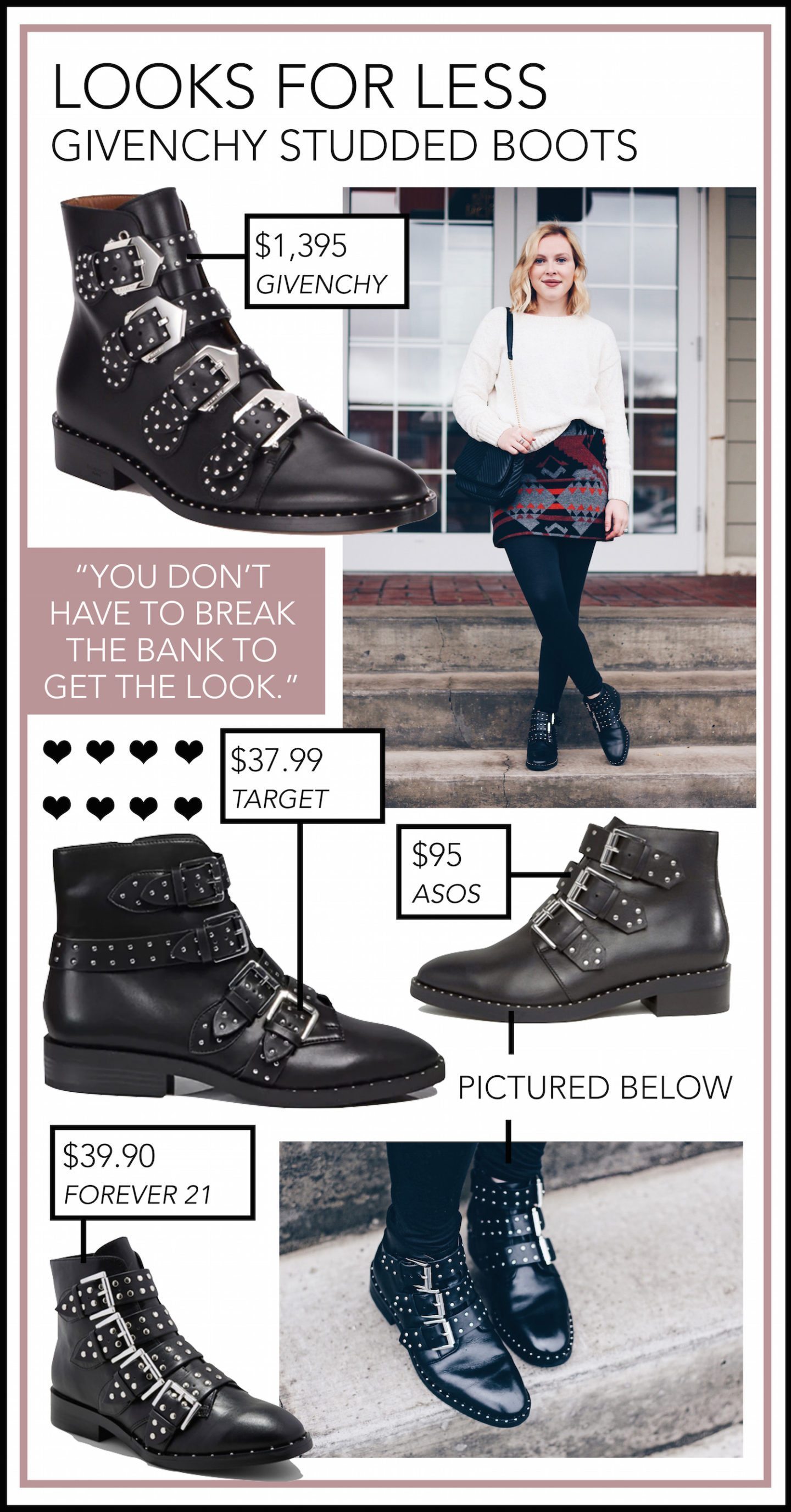 A few months ago, I stumbled upon a post from one of my favorite fashion bloggers. In this post, she styles a pair of ADORABLE studded Givenchy boots that just so happened to immediately become the apple of my eye. The only problem? They're $1395 😱. Now, if you can afford to drop upwards of $1300 on a pair of boots, all the power to ya girlfriend. Little old me however? Definitely not (though I have to admit my mind went there for a second!).
Honestly, I was really disappointed when I learned how much these boots cost. I was so disappointed though, that I actually came up with a great idea: I'd find a dupe. A pair of boots that look so similar to the Givenchy ones that I'll hardly notice the difference. Luckily, just a little bit of snooping around on the web resulted in a practical gold mine of lookalike products!
I opted for this ASOS pair, since they were the ones I found first. I have to admit I jumped the gun a bit, haha. As soon as I saw a pair that was somewhat affordable, those darn boots were in my virtual shopping cart faster than you can say "but Forever 21 has them for less than half the price." 
That being said though, I'm SO happy I was able to find a similar pair of boots to the original Givenchy's. I also love the quality of my ASOS studded boots, which is important to me as I try to build a more long-lasting, high-quality wardrobe (without breaking the bank, of course).
If you follow me on Instagram, you've probably already seen these boots on my story, but I also styled them in my recent blog post on How to Style a Cozy White Sweater, Three Ways. I'd say they're worth the $95, but I've also listed a few more budget friendly options above too from Forever 21 and Target.
My whole goal with sharing my personal style is to inspire you and to help you express your own personality through your wardrobe, without inciting some major closet envy. As much as I love my designer items (and the fact that I'm trying to shop higher quality pieces more exclusively as of late), I live for a good deal. I want fashion to be attainable and fun, not stressful and expensive. Anyone else with me?
Now tell me, what fashion item are you lusting after, but loathe the price tag? You name it, and I'll find it and do a post about it!
Givenchy Studded Boots Dupe