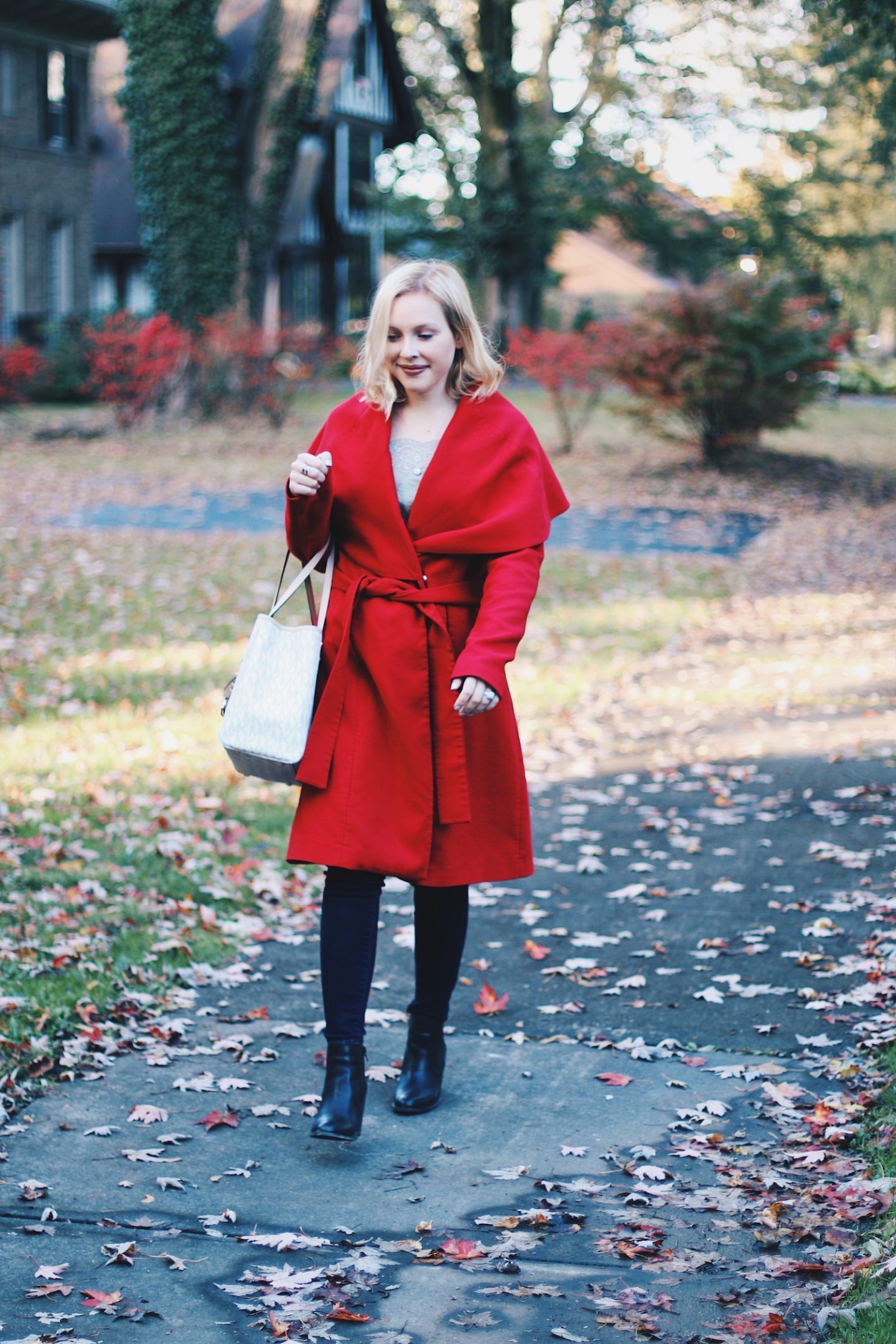 The weather is really cooling off here on the East Coast, and (for once) I'm actually not that mad about it. This year, I'm trying to have a different attitude towards the cold weather. Instead of grieving the lack of sunshine and warmth that I love so much, I'm pushing myself to try new styles this season that will actually get me excited to put on a coat.
Related: 9 Cute Coats to Get You Excited for the Cool Weather
One of my favorite ways to get ready for both the holiday season and the colder temps is to scout out some beautiful statement coats. I love a good statement coat, because they often get LOTS of compliments. They draw (the good kind of) attention to your outfit, and they also allow you to keep the rest of your look simple and chic.
Though I do love statement coats very much, something I've struggled with in the past is actually pulling the trigger on purchasing them.
A statement coat is usually bold, so what if I don't want to wear it all the time? It might not go with every outfit! Would I be better off shopping at a lower end retailer, so I don't waste money on a piece I won't wear that often? But I also want the coat to actually last and be something I truly love. So many factors to consider…UGH.
After struggling with these questions for several seasons on end, I thought I'd give you my two cents on how to find the perfect statement coat. No matter what, statement coats are so much fun to wear, and I want to show you how you can do it too! You shouldn't avoid the investment (no matter how big or small) just because of some of the few silly questions above.
So, here we go! Here's how to find the perfect statement coat: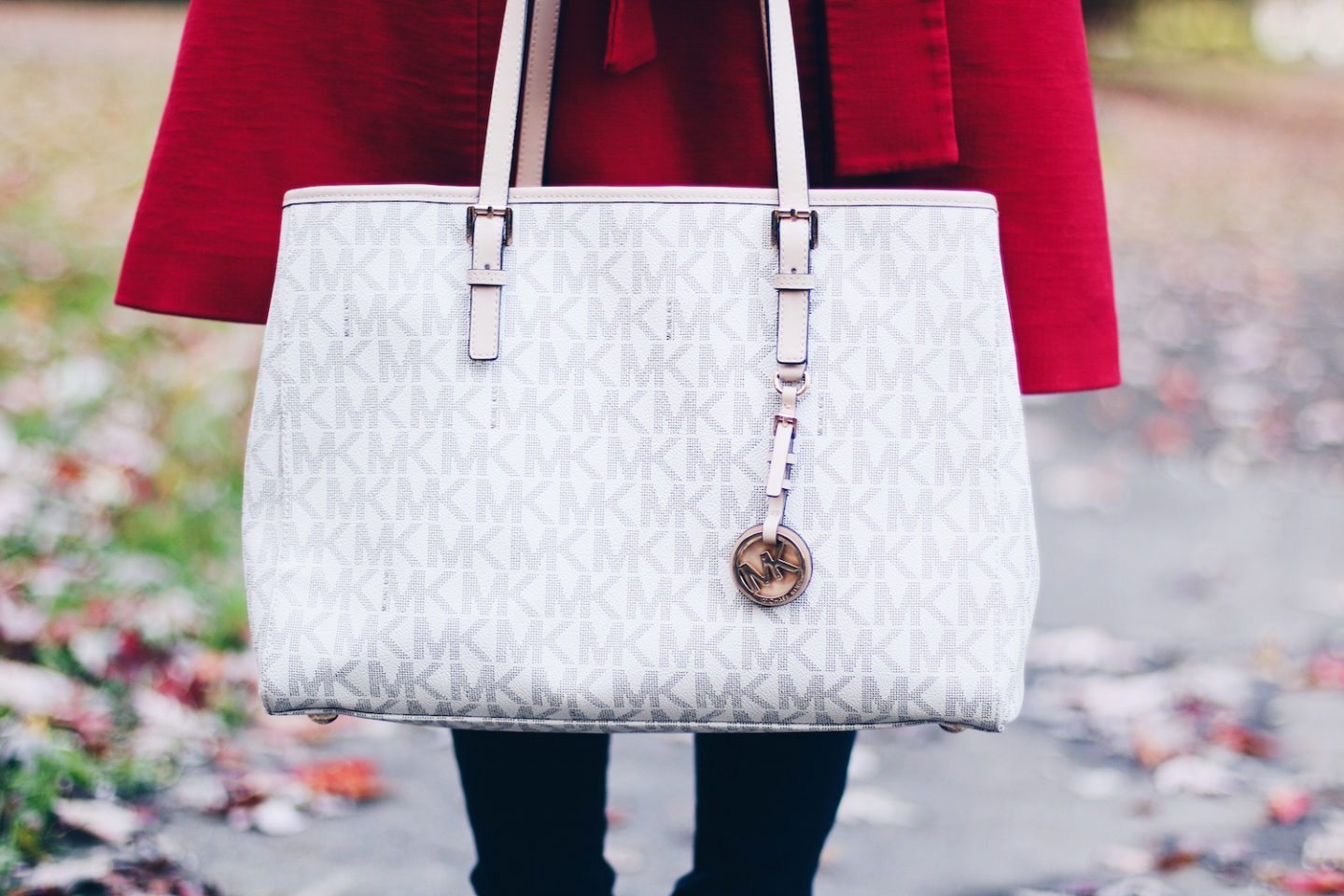 Consider the Price
Whenever you're shopping for a new item to add to your closet, price is of course one of the utmost important considerations. For example, I'm not typically someone who's comfortable dropping hundreds of dollars on one piece. I'm trying to prioritize quality more lately, purchasing fewer pieces that I feel are true investments in my wardrobe, instead of lots of lower end items I might only wear a few times and give away. That being said, I'm still on a budget and I do believe that there are (many) more important things in life to spend my money on than just clothing.
My best piece of advice in regards to pricing when looking for a statement coat is to start out with a budget. Know how much you're willing to spend upfront, and don't bother looking at items that exceed that budget. This is a trap that I've fallen into many times, and it honestly just leads to disappointment (if you truly can't afford that item) and/or guilt (if you can afford the item and choose to purchase it, knowing you're spending more money than you really wanted to).
I of course can't give you a figure to spend on a statement coat, because that figure will look different for everyone. Know that there's appropriate options out there for every budget though…don't get discouraged if you follow lots of luxury fashion bloggers and can't afford their exact items! You'll be able to find something similar that you'll love just as much. Promise.
SHOP THE LOOK:

Consider the Quality
Like I said above, I'm trying to focus on the quality of the pieces I add to my wardrobe now. I've boughten statement pieces before from lower end retailers for the exact purpose that I didn't know how often I'd want to wear something so bold. Therefore, I didn't want to spend a lot of money. Nowadays though, I'm less willing to sacrifice my comfort, haha. I've actually found that when I purchase lower end statement pieces, I wear them a few times and give them away. It's kind of a waste. However, if the statement piece is a bit more of a luxury item that is more comfortable to wear and higher end, I'll make more of an effort to make the piece work with a variety of outfits.
I'm a big believer in mixing high and low fashion, so just consider where you want to spend your money and how often you're going to wear a lower end item. It's always the sweet spot when you can find an item that's bargain priced and comfy AF though.
I just wouldn't recommend purchasing something solely for the looks of it, when it's low quality, thinking you'll get over that. Odds are, you won't wear it very much in the long run!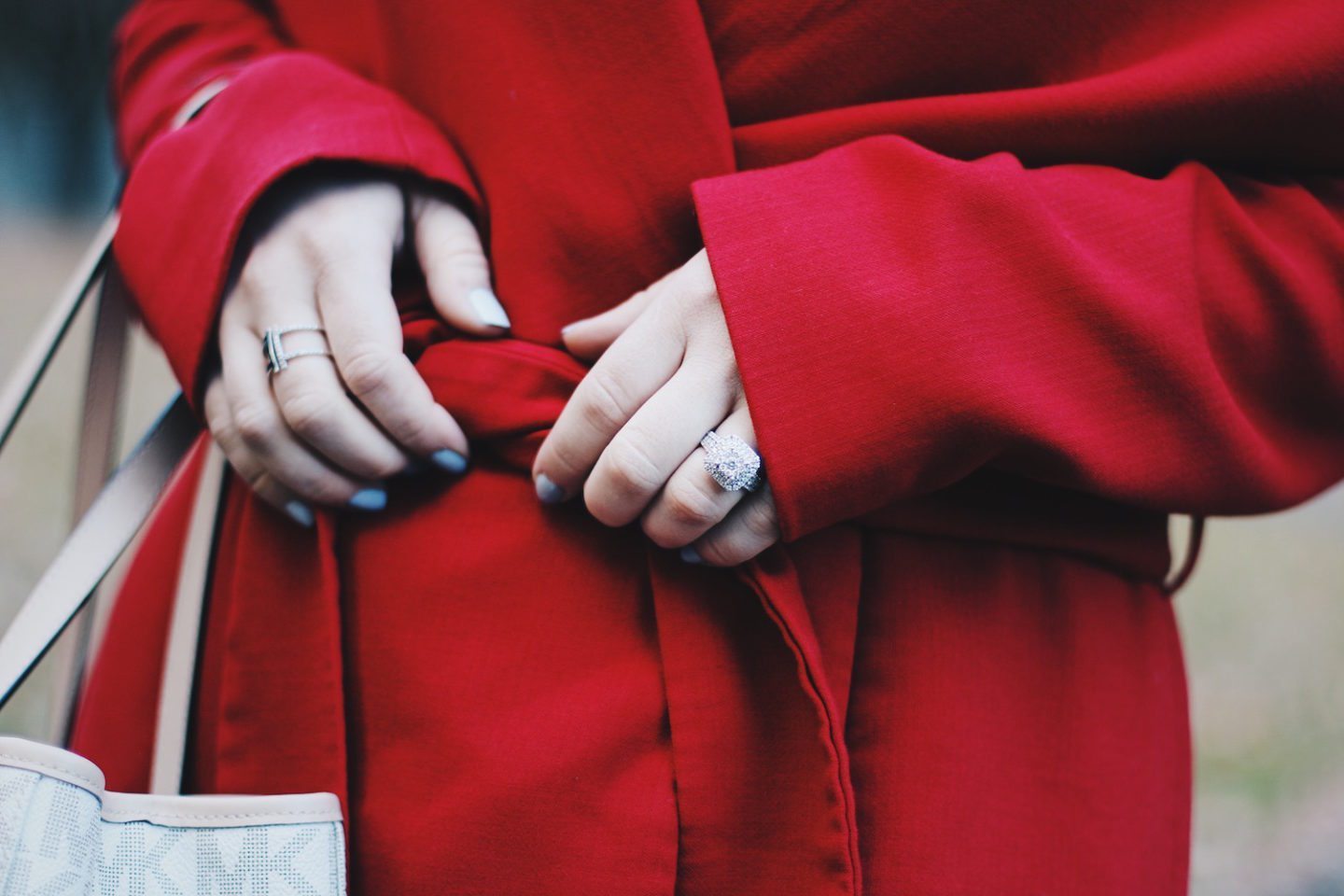 Consider How Much You Love It & Are Going to Wear It
The final thing to consider when looking for a statement coat (or any statement piece) is how often you're going to wear it. This bold red coat I'm wearing in these photos is the perfect holiday coat, and it's something I could wear all season long. Sure, it doesn't go with everything, but it does go with most things…especially since it's so long and it pretty much covers up most of any outfit until you untie it.
Just be careful you don't buy something super pricey that you're not going to end up wearing often or that you'll get sick of quickly. You've gotta love it for it to be worth the investment, no matter what quality & price point you're looking at! Even if you find a killer deal, it's not worth it if you don't actually like the piece all that much.
Another Option…
Another option if you don't feel like investing in a statement coat is to rent one. I actually rented the coat I'm wearing in these photos from Rent the Runway! It's a more affordable way to still wear high-quality clothing at (sometimes) less than half the retail price. I'm always looking to save some money and/or get a good deal, so this is a great option to consider if you're unsure about dropping the cash on a bold piece. If you love an item you're borrowing from Rent the Runway, you can also many times purchase it for a discounted price. There's lots of ways to work around budgets by getting creative 😁.
What are your thoughts on statement coats? Do you have one? What's it look like? Do you wear it often?