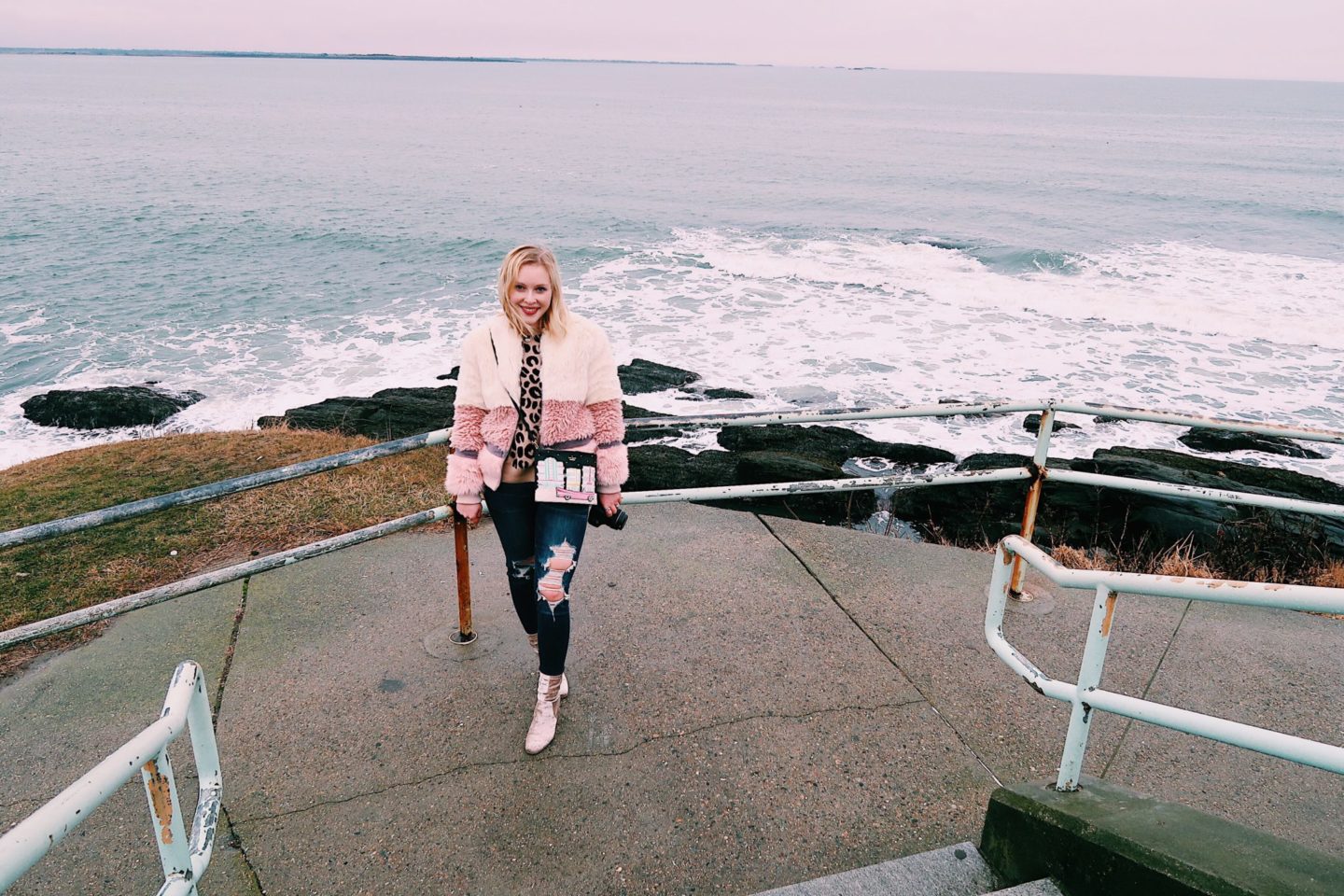 It's finally here! Travel guides take me the longest to write up, because I truly try to make them as fleshed out and inclusive as possible. They're also some of my favorite pieces to share though, so I am incredibly excited to bring you the full details of our Newport, Rhode Island getaway last month.
For those of you who don't know, R. and I actually visited Newport over the summer with his family. We didn't have a chance to explore too much since we only spent a few days there, but I immediately knew it was somewhere I wanted to go back to (see this post on 5 Reasons to Visit Newport, Rhode Island from my last trip).
Before we get into everything you need to know about visiting Newport though, let me tell ya'll WHY this charming city is an essential to add to your travel bucket list.
Why Visit Newport, Rhode Island
Newport, Rhode Island is one of my favorite cities I've visited in awhile. As a bit of a history buff, there was SO much to explore. Newport was poppin' during the Gilded Age (think allllllll The Great Gatsby vibes), so touring the lavish mansions and frequenting places like what's said to be the oldest tavern in the United States were huge hits for us. This city is the perfect blend of the old and the new, and it's of course absolutely stunning year round given its location on the coast. Oh, and did I mention that it's pretty centrally located for all my NY ladies? It took us about 7 hours to get here by car (with several stops for bathroom breaks & food), which was completely doable.
Now onto the real goodies…
What to Do in Newport, RI
We arrived to Newport at about 8 p.m., so our first order of business was to check into our hotel and get situated. Honestly, we were exhausted from the drive, so we just turned on the gas fireplace in our room, watched a little Netflix, showered, and rested up for the long day ahead of us.
The next morning we woke up super early for a shoot at the hotel, and then we were off to the Newport Mansions! First off was The Breakers, which is the "the grandest of Newport's summer "cottages" and a symbol of the Vanderbilt family's social and financial preeminence in turn of the century America." Though these establishments were referred to as "cottages" back in the day, they're basically castles in most Americans' eyes 😂
After our guided tour of The Breakers, we were able to hit up the Newport Cliff Walk right outside. This path runs right along the shoreline, providing outstanding views of both the coast and the lavish mansions that run alongside the path. This is definitely a must-see while in Newport and is v. Instagram-worthy!
After the Cliff Walk, my soon to be sister-in-law and I headed to Newport Vineyards for a tour and wine tasting. This was probably one of my favorite parts of the trip, since this girl loves herself a glass o' wine from time to time. Even though we weren't able to tour the actual vineyards since it was so cold, seeing and learning about all the machinery used to make the many varieties of wine they offer was so interesting. And obviously the tasting was delish!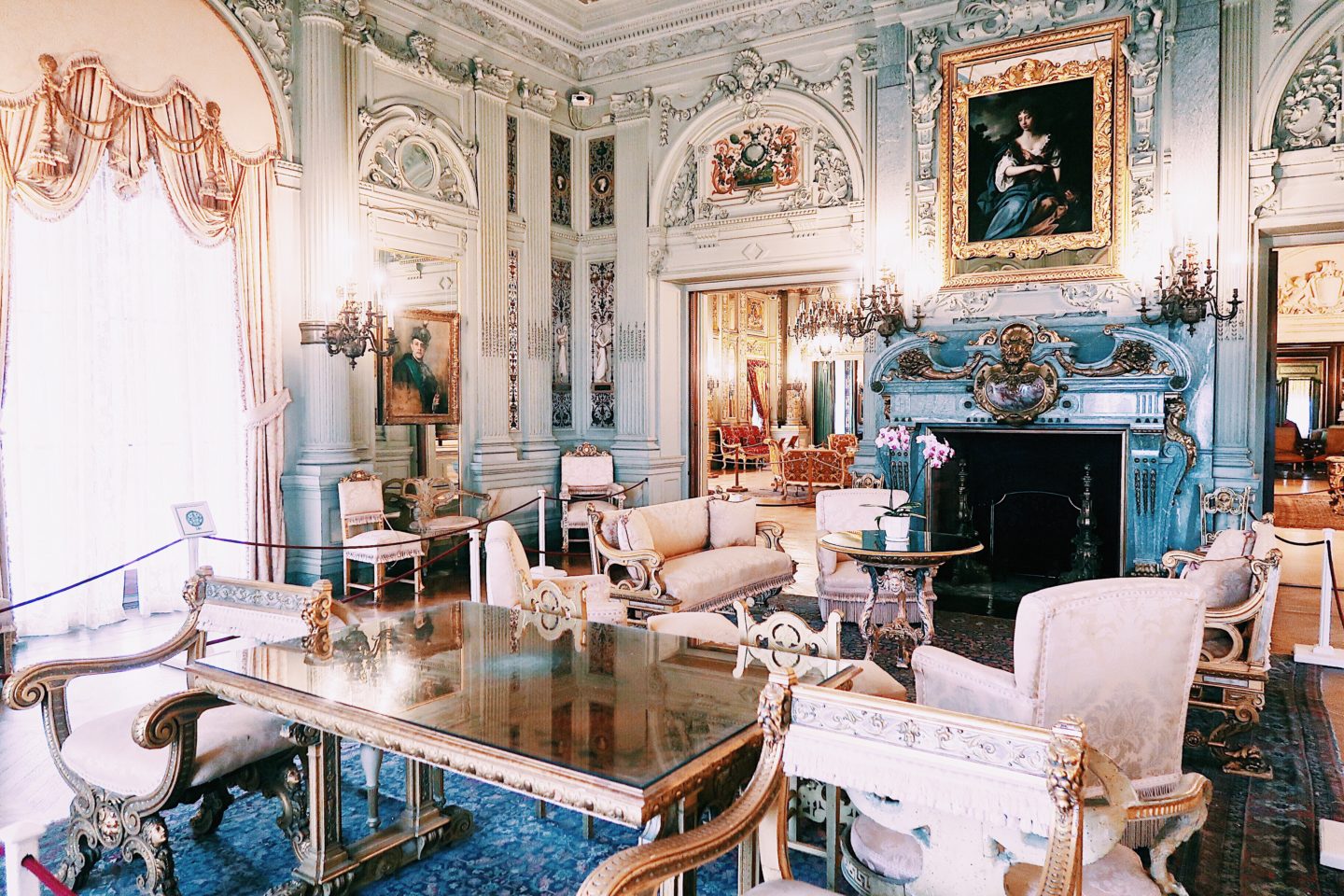 After all of this, we headed to yet another Newport Mansion, Rosecliff. I particularly loved this mansion, because it was SO Gatsby. They even filmed parts of the first film here, it's that legit! Other films like 27 Dresses were also shot here, too. For this mansion, we did a self-guided audio tour that was loaded with historical information. I loved learning about all the lavish parties this home was host to over the years!
Other mansions we visited on this trip included The Marble House and The Elms, which were the two other homes open in January. I loved visiting Newport during this time of the year, because we were fortunate enough to get private tours of each of the mansions! It's definitely more crowded during the summertime, but there's also even more mansions to explore…so there's benefits to visiting during both the "off" season and during the spring/summer/fall!
Lastly, we finished off the trip with a bit of relaxation at the Bodhi Spa. We were signed up for a hydrotherapy session, which was *to die for*. For those of you who haven't tried hydrotherapy, I highly, highly recommend it. Basically, it involves spending time in both hot and cold tubs, as well as a sauna and aromatherapy steam room. The heat dilates the blood vessels, causing more blood to circulate near the surface of your skin. The cold constricts your capillaries and removes toxins from the body. According to the spa, "the process of stimulating the circulatory system with hot and cold, detoxifies and bathes your cells in fresh oxygen-rich blood; bringing youthfulness to your mind and body."
I don't you about ya'll, but I'm totally obsessed.
Where to Stay in Newport, RI
Since I've been to Newport twice now, I've had the opportunity to stay at a few different hotels. Over the summer, we stayed at the Newport Marriott, which was pretty consistent with the experiences I've had at other chain hotels.
This time however, we were lucky enough to get a room at a beautiful boutique hotel downtown, called Gilded. Honestly, staying at Gilded was one of the biggest highlights of our trip. Our room was *so* cozy, even including a gas fireplace and complimentary Netflix 😍I seriously could've camped out at this hotel all day and been totally fine with it.
I did a full review of Gilded here, so make sure you check it out for pictures of the beautiful pink interiors, their delicious breakfasts, and more!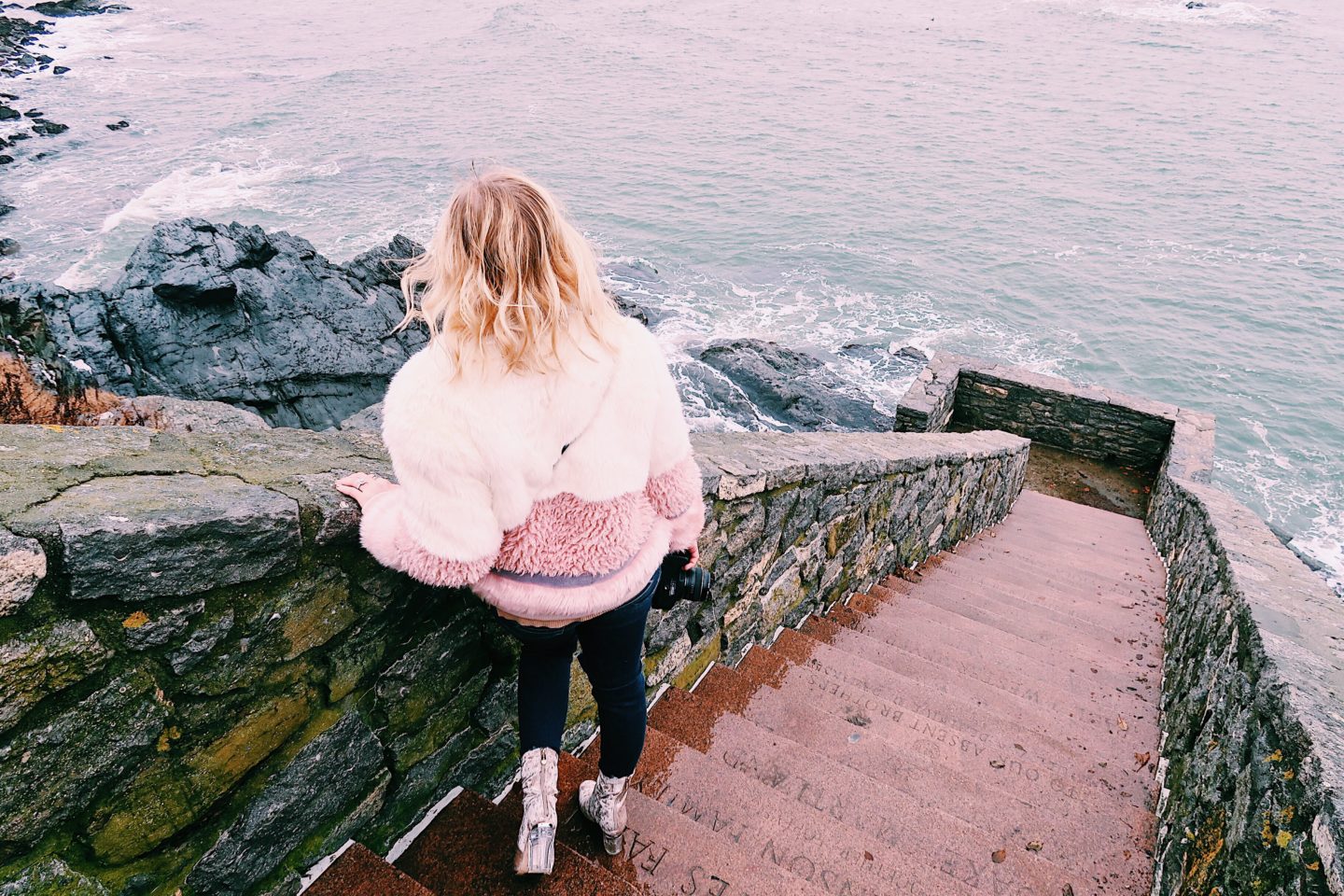 Where to Eat in Newport, RI
Ugh, reminiscing on the food in Newport is practically making my mouth water right now! We ate breakfast at our hotel every morning (everything was homemade and DELISH), but there were a few other restaurants we really enjoyed.
One of the most interesting places we tried was the White Horse Tavern, which first opened in 1673! Like I mentioned before, I love history. So, this was the perfect place to dine. The wood burning fireplaces helped us warm up from the cold weather, and we even got to hear a few stories of the famous people who have frequented the establishment over the years.
The other restaurant we enjoyed on this trip was Diego's Mexican restaurant. This place is right on the water, so there was a killer view! Also, get the chicken nachos. You will NOT regret it!
Conclusion
Overall, this little getaway to Newport was just what we needed! And due to the time of year, it was nice to explore without too many people around. It was extremely relaxing, and it was a great time to check out some spots that might have been a bit too touristy/crowded for me during the busy season.
I'd absolutely recommend visiting Newport, Rhode Island, whether you prefer to book a trip during the winter or another season. The city is rich in history, there's plenty of shopping and good food, and the boutique hotel scene is on point. It meets all of my standards for the perfect girls' trip!
Have you ever been to Newport, Rhode Island?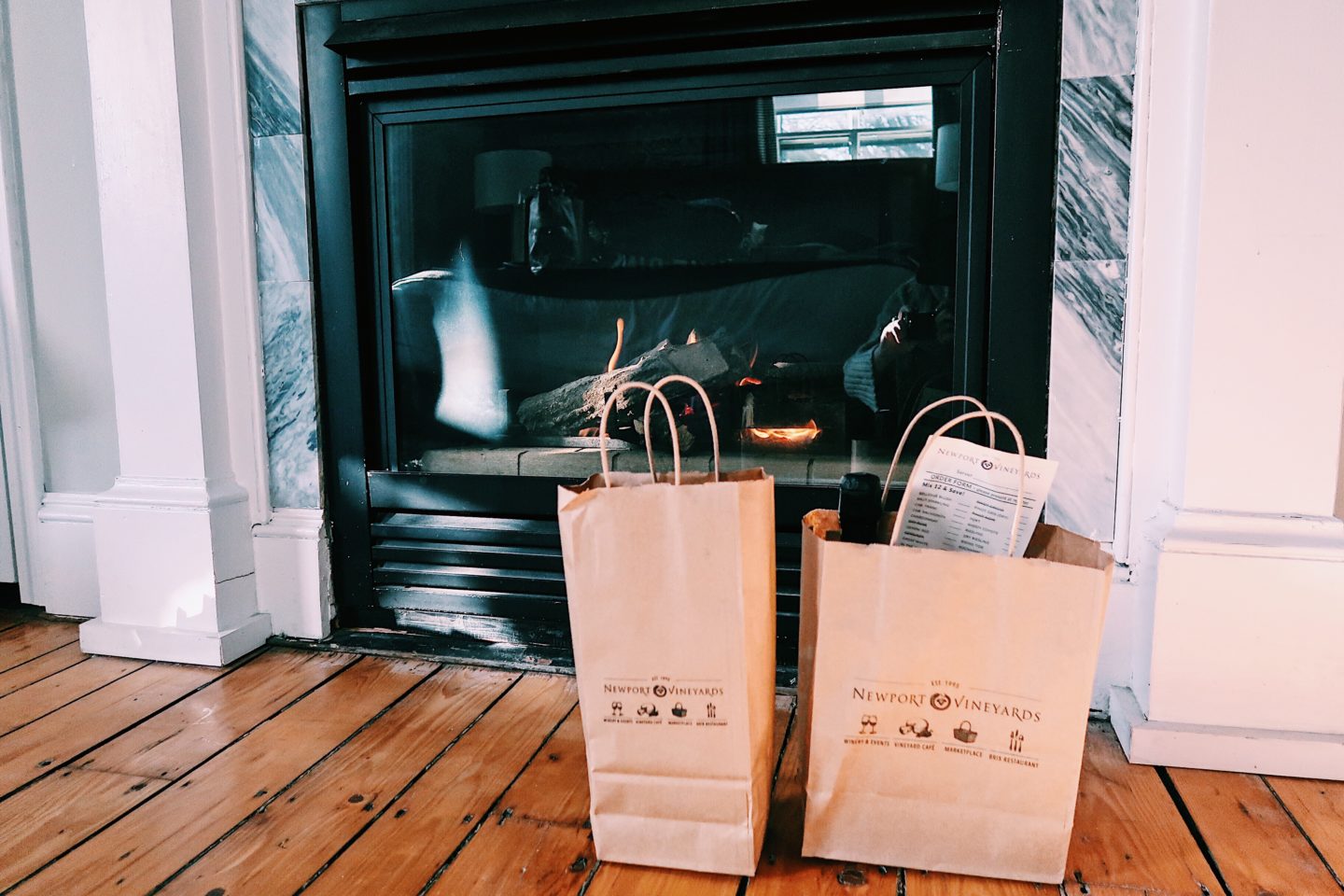 For more information on lodging, dining, attractions, transportation and more, visit www.DiscoverNewport.org ☺️