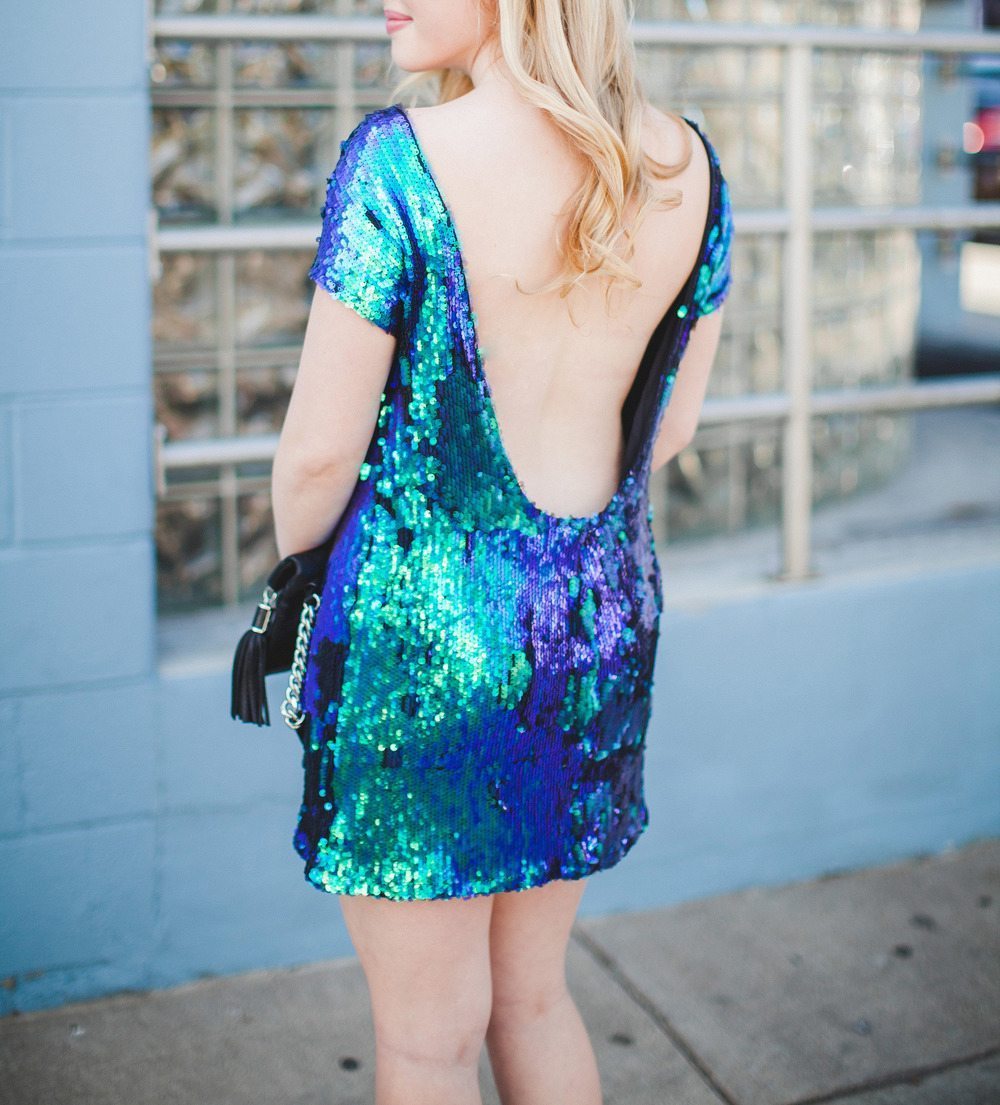 I think a lot of people nowadays have a love/hate relationship with sequins (myself included). Worn in the wrong context, they can look tacky and out of place. But fab numbers like this Starstruck Sequin Shift Dress from Tobi? There's nothing better, really.
In fact, when Tobi reached out to me to collab (there's two more amazing looks coming to the blog soon), this dress was the first item on my wish list. The green and blue hues and scooped back are everything I've been looking for in a party dress.
It's fun, right? And it's pretty obvious from the photos that the dress is stunning, but here's five more reasons you should implement sequins into your wardrobe this summer, plus a few tips:
Reason #1: it screams confidence
Like I said, sequins can go very right…or very wrong. If you're bold enough to rock 'em (and rock 'em right, with confidence), you'll stand a little taller and look a little more secure in your own skin. Not everyone has the will to try on that attention-grabbing sequined dress, but the results are awe-inspiring for those that go for it.
TIP: Fake it until you make it. Even if you're a little unsure about that sequined look, put on your big girl pants (or dress, in this case) and start acting like you know what the hell you're doing! So much of pulling off any bold look simply comes down to how you wear it. And if you wear it with confidence? You're already halfway there.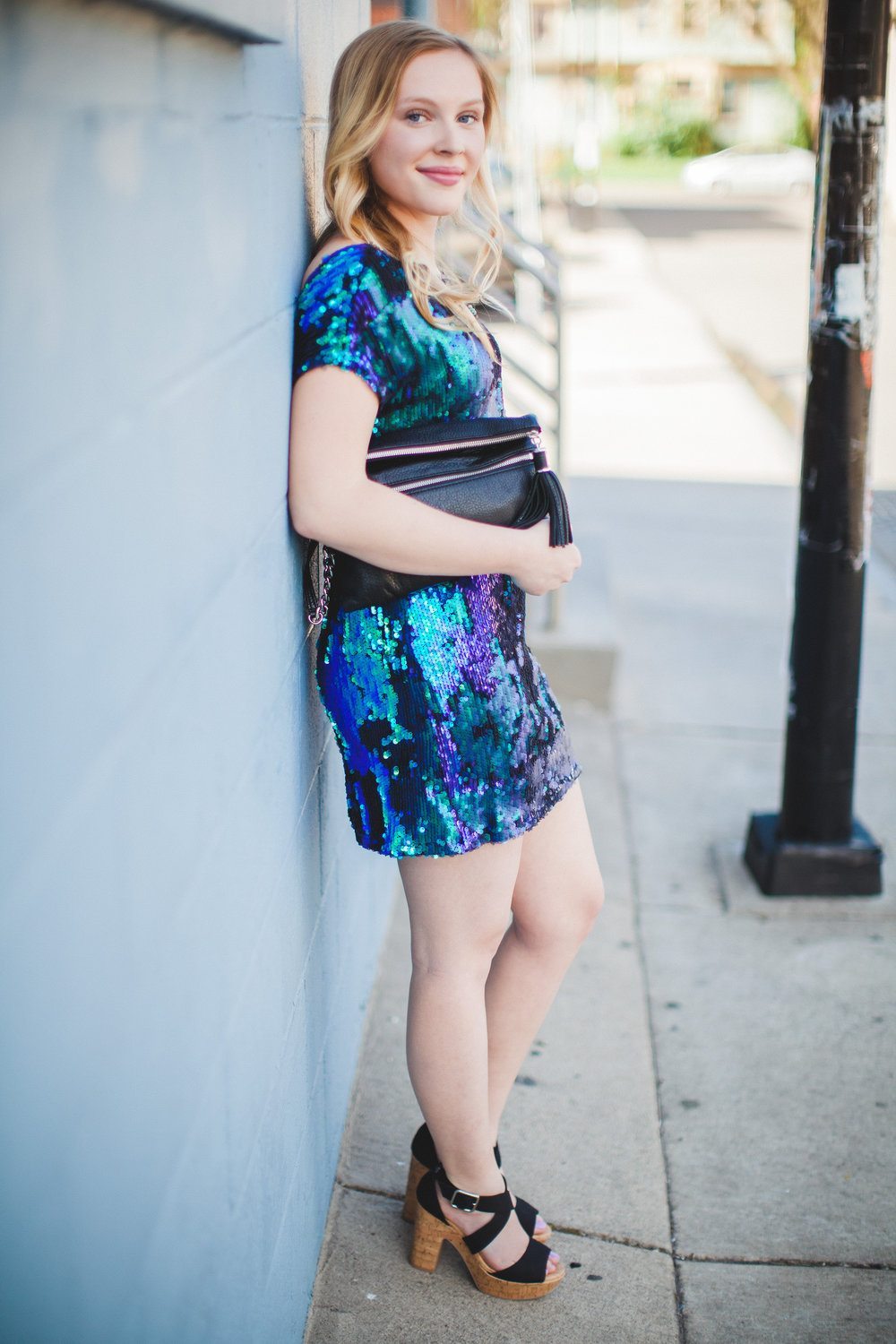 Reason #2: It's easy
One of my favorite parts about wearing sequins is that it's so freaking easy. For example, when I was styling the dress in these photos, I immediately knew that I wanted to keep it simple with a black clutch and heels. It was a no-brainer, consider how eye-catching the dress already is. The sequins are also so stunning that jewelry would only detract from the focal point of the outfit. So, a party look with only three items total? Hell to the yes.
TIP: Don't overthink it! Keep the rest of your ensemble simple and let the sequins speak for themselves.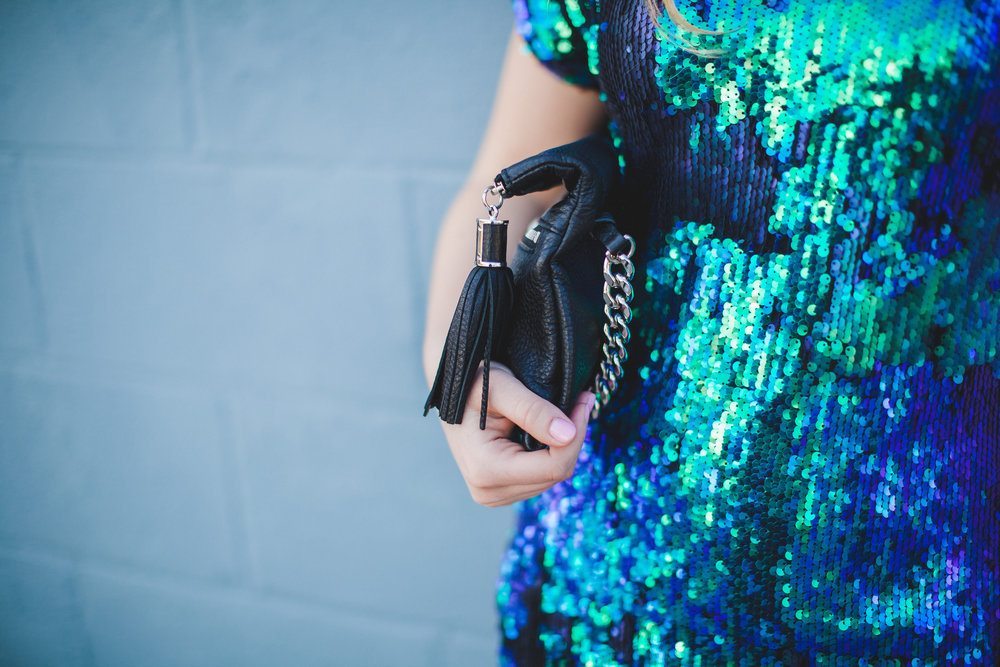 Reason #3: It's attention-grabbing
Want to be the talk of the party, for the RIGHT reasons? Wear sequins.
TIP: When looking for a sequined number, keep quality in mind. There are absolutely some fashion dupes that work marvelously, but you don't want to risk losing any of your glam look throughout the night if there are any loose/torn threads. The goal is to create a look that is memorable for the right reasons (it's unique, ultra glamorous, etc.), not because you're leaving a trail of shiny sequins behind you!
P.S. In case you're wondering, I was thrilled with the quality of this Tobi dress. The material was totally durable, and none of the hundreds of sequins were ever in danger of falling off!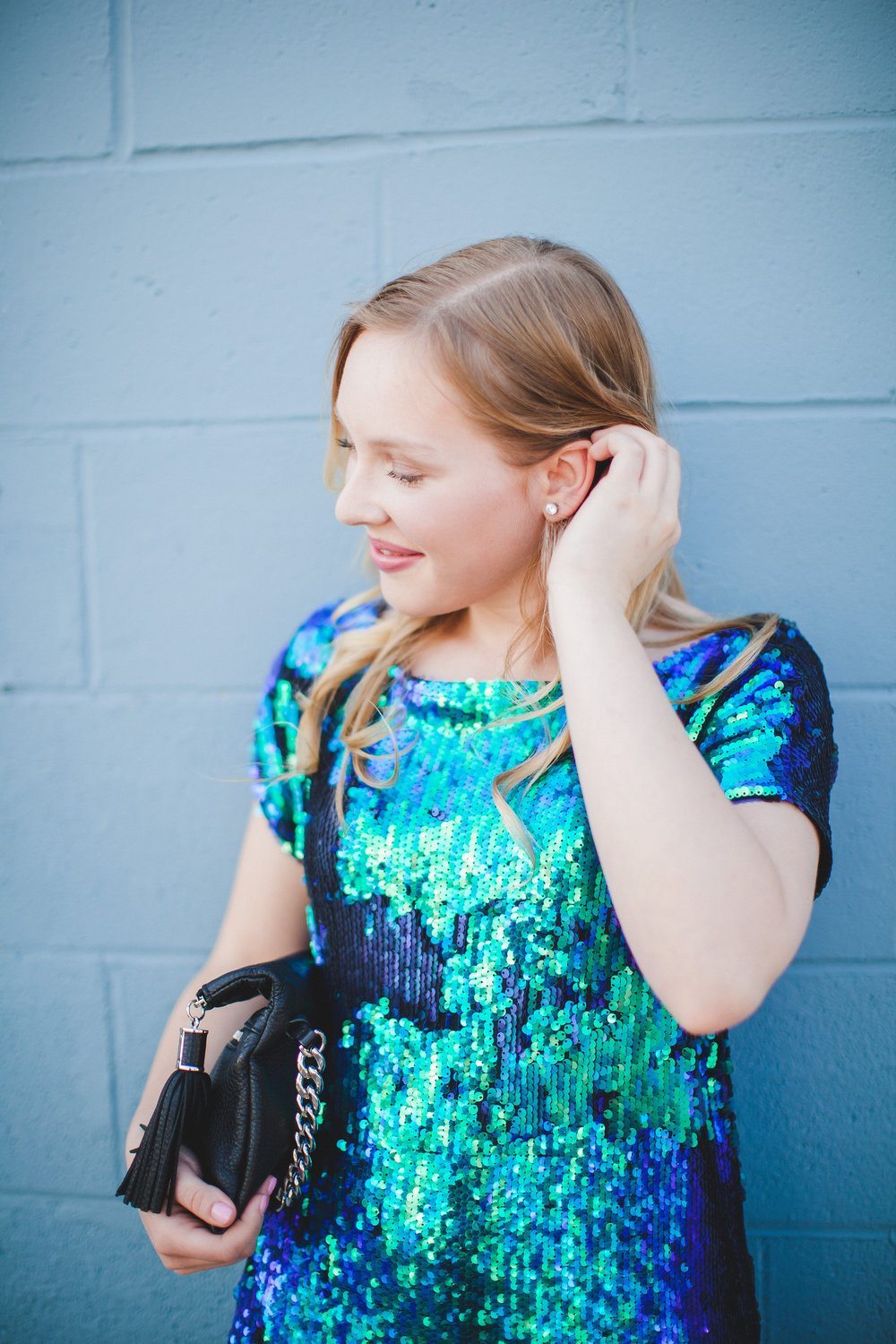 Reason #4: it's an opportunity
It's not every day that a girl gets to play dress up with such a glam look as the one I'm rocking in these photos (at least where I live). There's certain occasions where sequin numbers are appropriate, and others where they are not. If you have a formal event where a sequined dress would fit in, seize the opportunity and take advantage of the chance to wear such a gorgeous and intricate piece.
TIP: Keep tabs on the dress code of any events you're attending. Check with other attendees prior to arrival to ensure that your scheduled ensemble is appropriate and in tune with the group. It's okay to stand out in the crowd (and you will with a sequined dress), but you always want to keep your look appropriate for the venue and circumstances!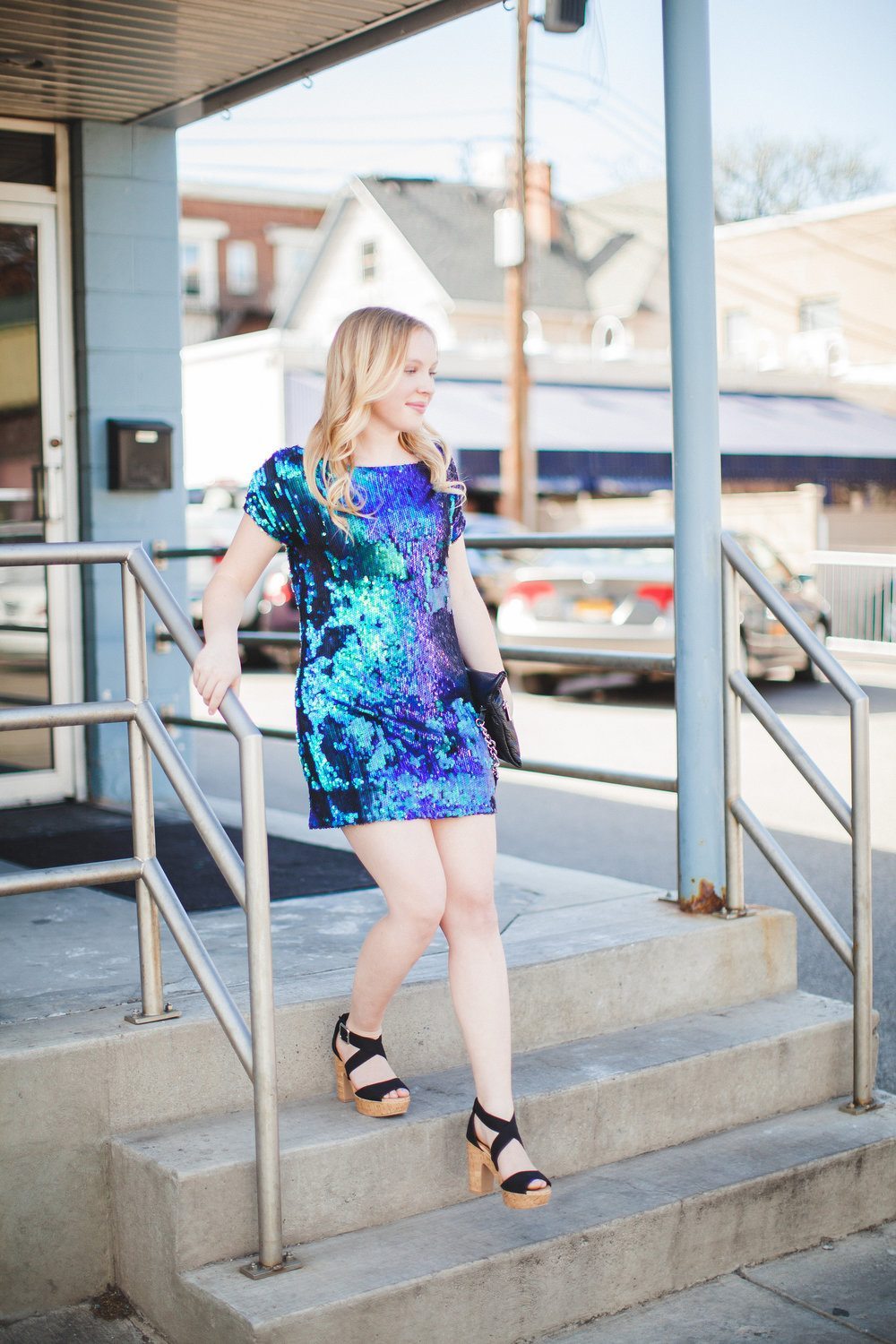 Would you ever consider a bold sequined look? Have you already mastered it? Let me know in the comments!
Also, here are few more ways you can shop Tobi (new customers get 50 percent off their first order, so hallelujah to that!):
Nude Heels, Mint Green Dresses, Coats, Black Dresses, Hoodies, Bracelets
Happy Sunday!
xx,
Holly