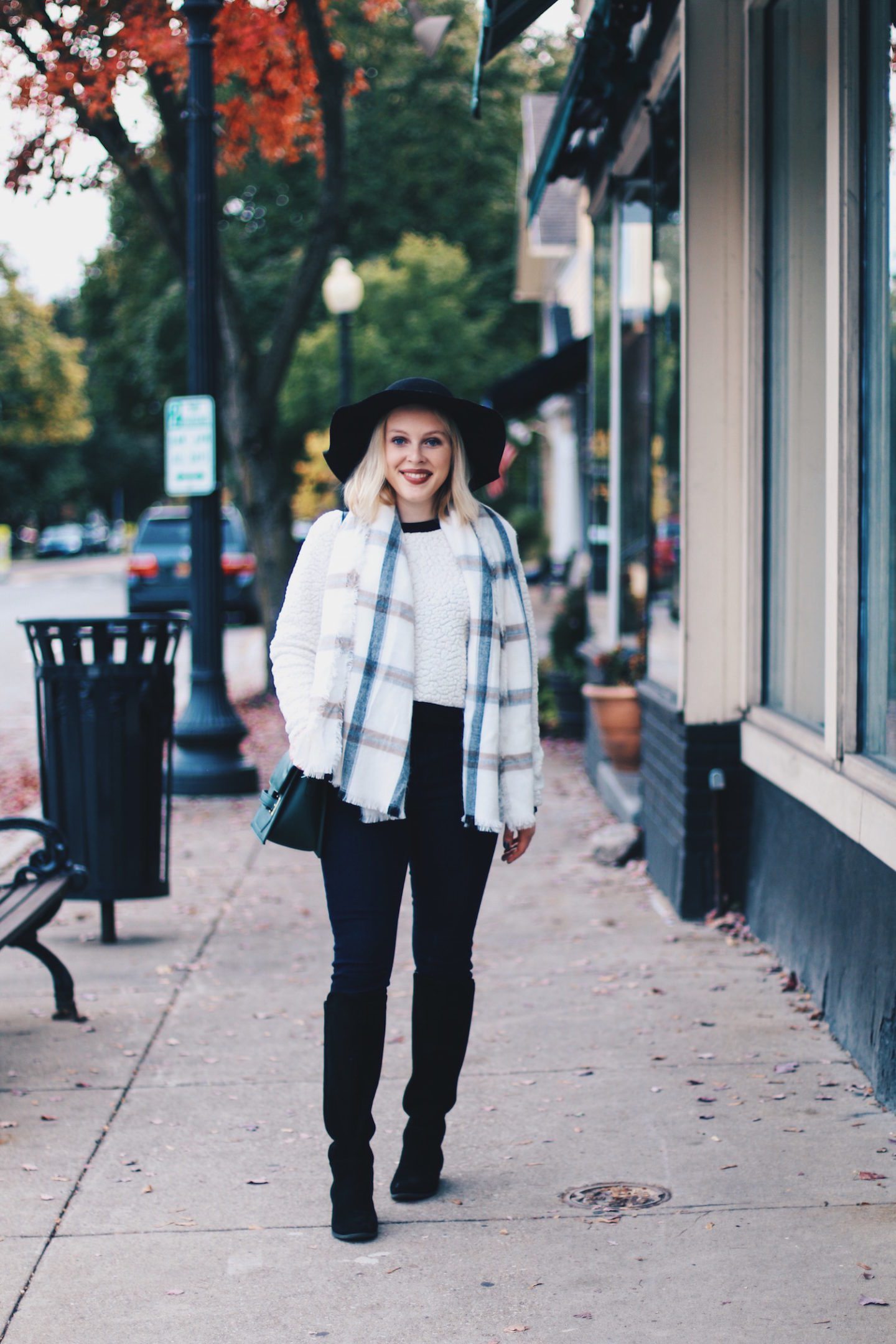 Steal My Look:

I think we can all agree that fall is a pretty kick ass season for fashion. With all of the shows going on, the coverage never fails to give me tons of outfit inspiration. And when it's over, I'm always left with a seemingly endless number of clothes and accessories to add to my ever growing wish list.
Though I'm always up to try something new, there are a few fall trends that I think everyone should know how to rock. Not only are these trends so classically fall, but I'm also pretty sure they'll never die. People take fall pretty seriously, if you haven't noticed (don't mess with a bitch's pumpkin spice latte or three wick Bath & Body Work candles, ya'll 😅). The best thing you can do with the trends below is learn 'em & love 'em people!
5 Fall Trends That Will Never Die + How to Wear Them
Trend No. 1: Blanket Scarves
We're all familiar with blanket scarves here, right? I got my first one a few years ago from R., and I've never looked back. They're just SO cozy! And did I mention there's practically a million ways to wear 'em? Just Google it friends. Or read this article for 10 amaze ideas on how to wear a blanket scarf + how to tie it. This is a trend I don't see going away any time soon, so we might as well all get with the program.
How to Wear It: Honestly, like I said, your best bet is to look this one up. There's just too many ways to wear a blanket scarf to actually go into them all here. That being said, my favorite way to wear this fall trend is either super simple, like a normal scarf, or I'll wear it as a shawl if I'm cold. My motto is usually just keep it simple, stupid. I've also used some of my Alex & Ani charm bracelets as a tie for my blanket scarves in the past (see this post for photos), which I actually adore. There's no tying involved which keeps things easy, but it shows off your personality a bit by adding some accessories.

Trend No. 2: Over the Knee Boots
Over the knee boots are one of my absolute favorite fall trends. I tend to stick with the non-heeled pairs, because they're comfy and easy to wear with pretty much anything. These are definitely my go-to shoes during the fall season.
How to Wear It: In my opinion, OTK boots are one of the easiest fall trends named in this post to style. I like wearing them with either skinny jeans or a shorter dress, because I think they complement each other and flatter your figure. I would recommend purchasing a few pairs of quality over the knee boots in a range of colors to give you some options for the fall. I've opted to add only neutrals to my wardrobe so far, but I'm dying to get my hands on a burgundy pair soon.

Trend No. 3: Floppy Hats
I have to admit, I wasn't ever really a hat girl until recently. I received my black floppy hat (pictured) in a subscription box last fall, and I was surprised at how well it went with my fall outfits. It's the perfect accessory to make any fall outfit just a bit more interesting and cozy looking.
How to Wear It: The only recommendation I really have when it comes to choosing a floppy hat is to look at both the material and size of it. You probably don't want something summery and made out of straw, so make sure you're opting for something more wool-like. You'll of course also want to make sure that it fits loosely on your head…nobody wants something that's going to squeeze too tight & give them a headache!

Trend No. 4: Anything That Comes in Burnt Orange
If you follow me on Instagram, you already know just how obsessed I am with burnt orange — specifically burnt orange paired with anything black. There's something about the color combo that just gets me!
How to Wear It: When it comes to styling burnt orange pieces, pair them with either all neutral colors (like black) or add in another fall color to the mix (like burgundy or dark brown). Just be careful you don't go too overboard. Orange is a bright color, and that colored piece should be the center of your look, with everything else revolving around it.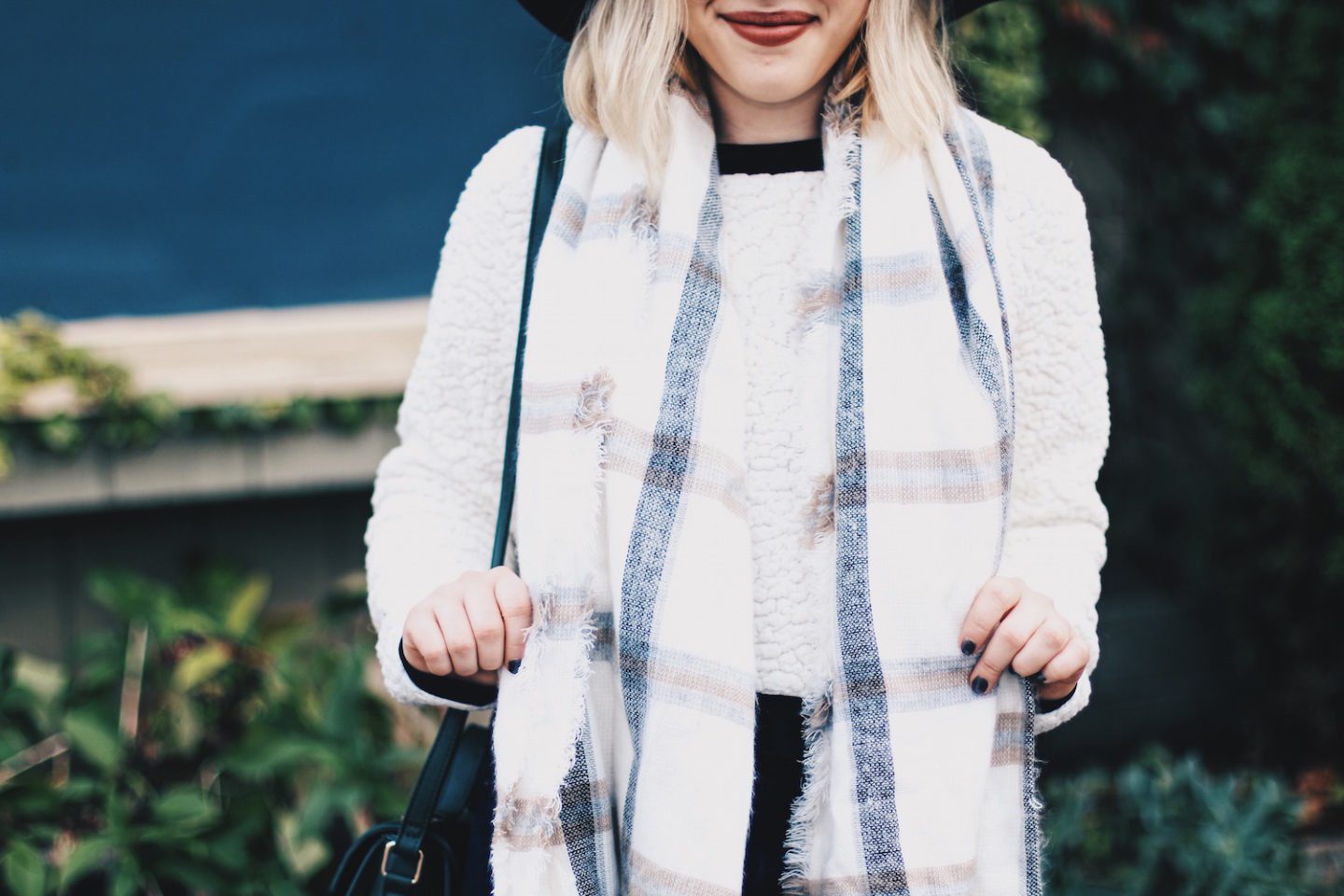 Trend No. 5: Plaid Everything
If there's one fall trend on this list that's pretty much guaranteed to last, I'd say it's plaid…plaid anything. Plaid shirts, plaid scarves, you name it. The pattern just screams fall, doesn't it? I think that's why people love it so much and are never going to let it die.
How to Wear It: Similar to when you're styling brightly colored pieces, keep things simple when you're incorporating plaid into an outfit. That pattern should be your focal point. Focus on accessories for these looks, instead of adding too many colors or other patterns.

What's your favorite fall trend? Was there anything I missed?