This post has been compensated by Collective Bias, Inc. and AcneFree. All opinions are mine alone. #AcneFreeSummer #CollectiveBias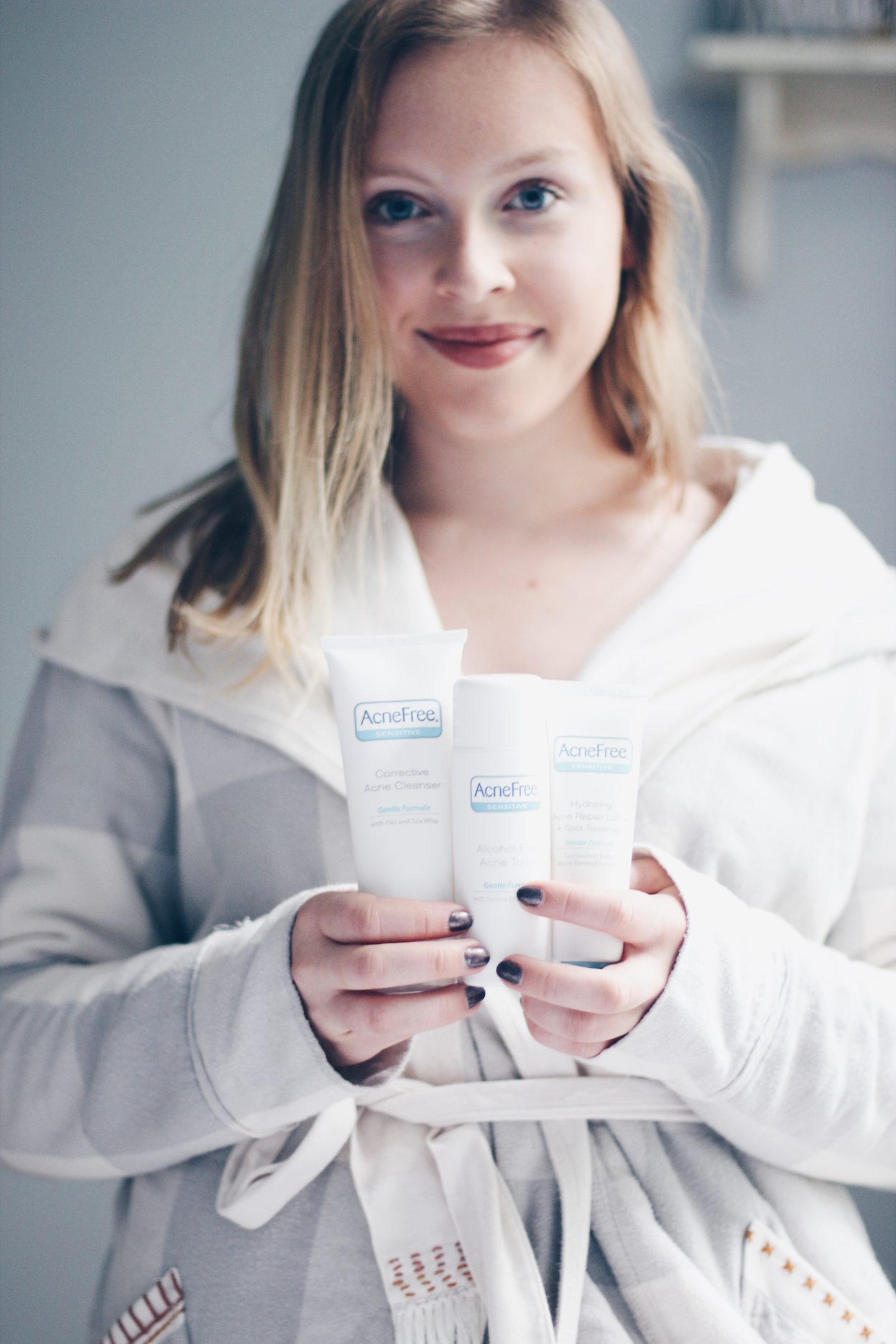 ICYMI, I recently celebrated my 21st birthday. I wanted to keep things pretty low key, but R. and I did take a trip up to Niagara Falls for the weekend for a little wine tour and other miscellaneous birthday shenanigans. I'm still (two weeks later 😂) working on a recap of that trip but, in total transparency, have been slammed with work since I got back.
Because I've been so crazy busy (Side Note: Why do people ever brag about being busy?? It's not glamorous??), I've been attempting to simplify my beauty routine and cut out products I don't actually need. This has resulted in my wearing less makeup than ever before, though this isn't atypical of me during the summertime. After all, who wants to deal with an extensive beauty process when it's warm and sunny outside?
Now let me be clear. I've struggled with acne ever since I was a teenager. So, wearing less makeup doesn't necessarily come easily to me. Given this history, you can imagine my surprise when I had one of my annual exams last week and my doctor began raving about my clear skin!
She even asked me what products I was using, because she just had to know my secrets. It's been awhile since I've heard that.
It's funny that she was asking me though, because this was right after I had started using AcneFree, which I bought on Amazon last month. Specifically, I purchased the AcneFree Sensitive Skin 24 Hour Acne Clearing System and the AcneFree Body Clearing Acne Spray.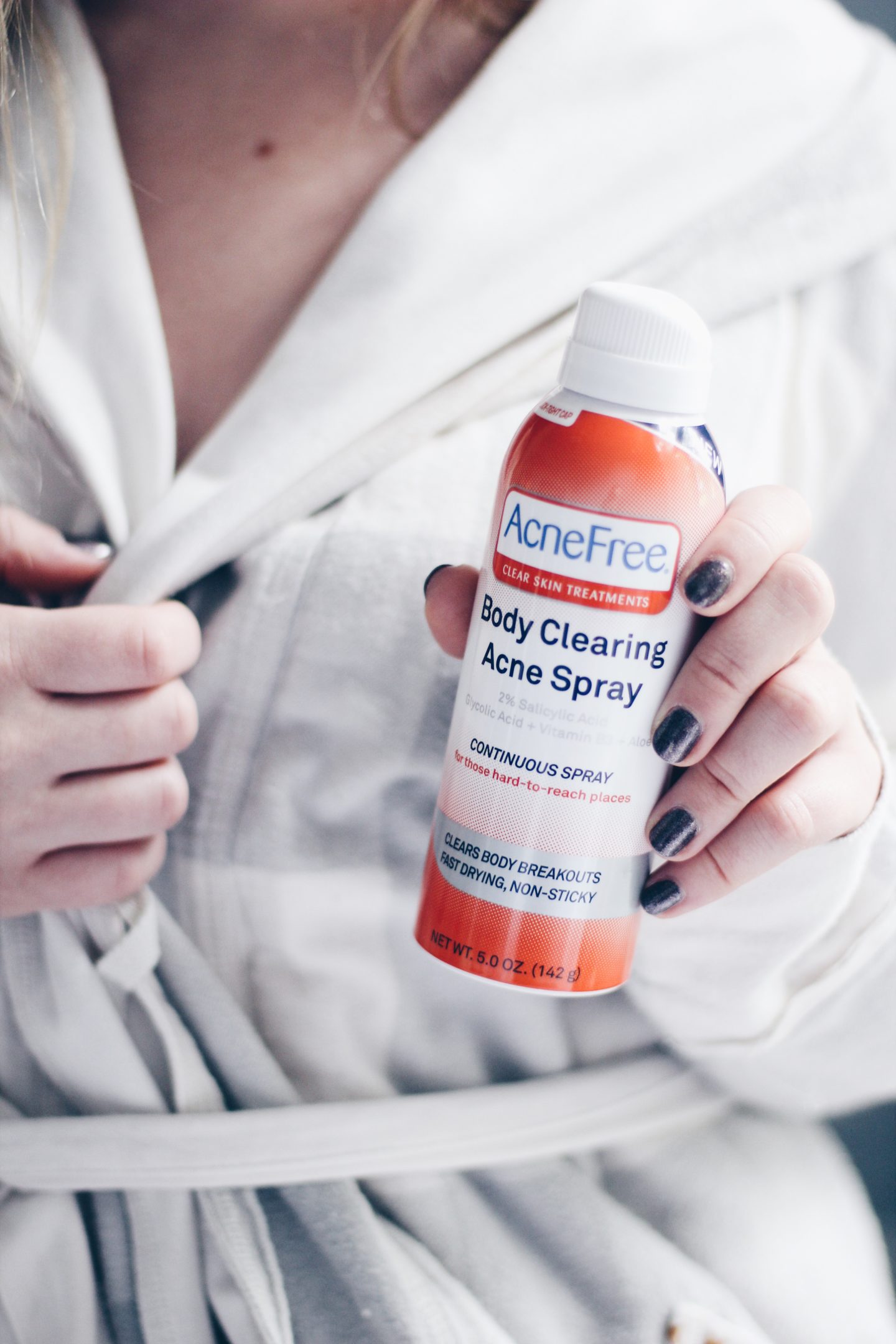 I bought the AcneFree Sensitive Skin 24 Hour Acne Clearing System, because I was looking for a manageable way to care for my acne-prone skin. It also wasn't going to break the bank, so I figured I had nothing to lose. Knowing what I know now though, I had everything to gain!
For those of you who might not be familiar with this kit though, let me take it a step back and fill you in. After all, I always like to know the details about products before putting anything even near my skin:
♥ The AcneFree Sensitive Skin 24 Hour Acne Clearing System is the only acne clearing regimen designed for sensitive
skin.
♥ Consistent use controls new breakouts, reduces redness and eliminates blackheads around the clock.
♥ AcneFree is the only brand that makes acne-clearing systems formulated with Advanced Micro-Benzoyl Peroxide. Micro-sized benzoyl peroxide is designed to work faster and penetrate deeper into pores – without the harshness and over-drying that can occur with traditional benzoyl peroxide.
♥ The AcneFree Sensitive Skin 24 Hour Acne Clearing System includes Corrective Acne Cleanser, Alcohol-Free Acne Toner and Hydrating Acne Repair Lotion + Spot Treatment – three simple steps, twice a day, for clearer skin!
All you have to do is cleanse, tone, and apply spot treatment. So easy!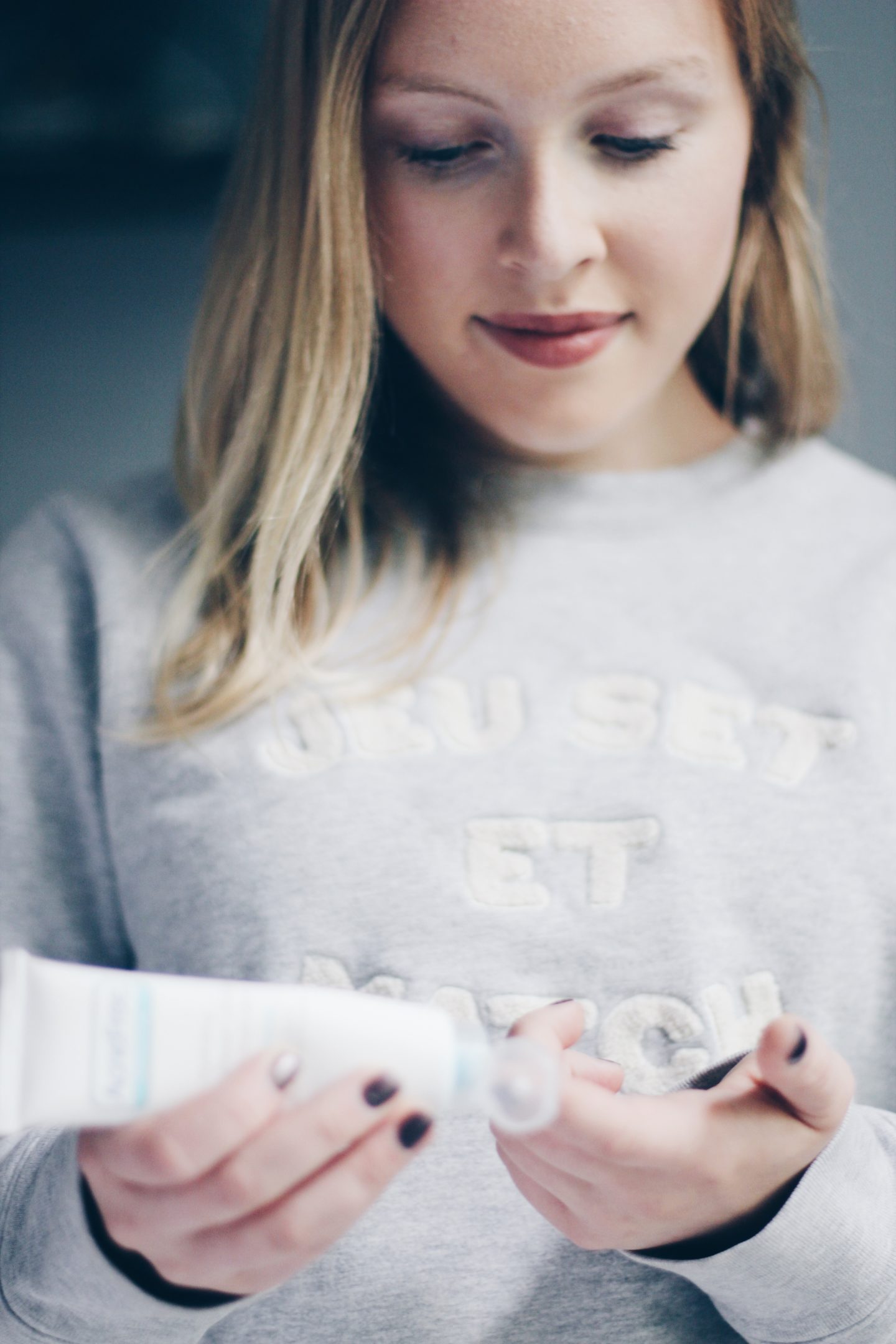 When I was shopping on Amazon for some new skincare products, the AcneFree Sensitive Skin 24 Hour Acne Clearing System was the first thing I put into my cart. Buuuuut, I knew I couldn't walk away just yet (or a.k.a. shamelessly hit "order" on my mom's Prime account 😂).
One thing that's really tricky for me during the summer months, and especially now that I've been working out and sweating more often, is body acne. Though acne on my face has been an ongoing issue, I haven't struggled much with body acne before. In all honesty, it's something that, at first, made me extremely uncomfortable. I didn't want to wear a swimsuit this summer, because I didn't want anyone to see the red bumps all over my shoulders and back.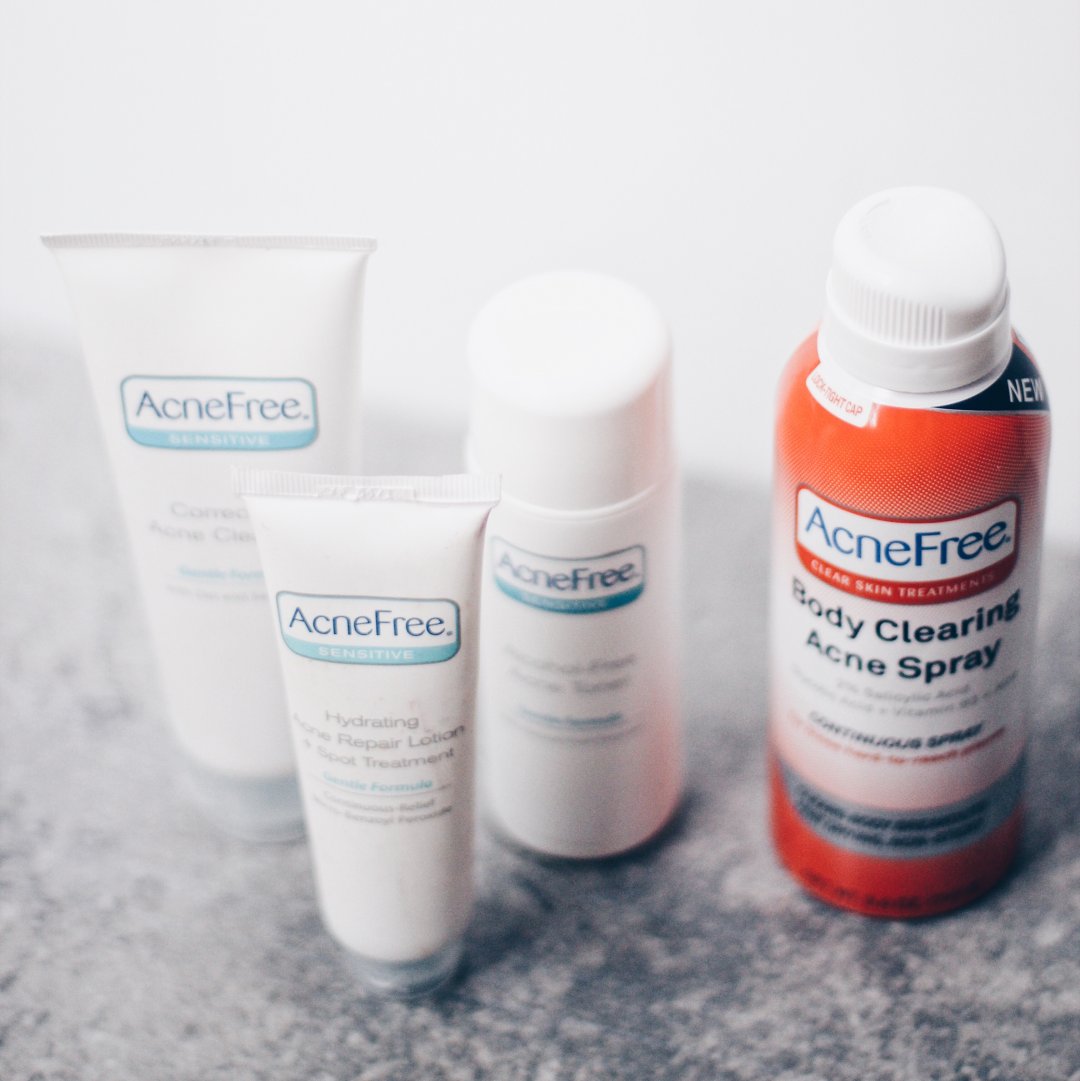 Want to try AcneFree too? Hover over the above pic to shop! 🦄 🦄
That's why I also threw AcneFree Body Clearing Acne Spray into my cart, too.
AcneFree Body Clearing Acne Spray is a clear, quick-drying spray that delivers dermatologist-recommended ingredients to hard-to-reach places on the body. And, guess what?
It's been a game changer.
Halter tops…here. I. COME. 🤣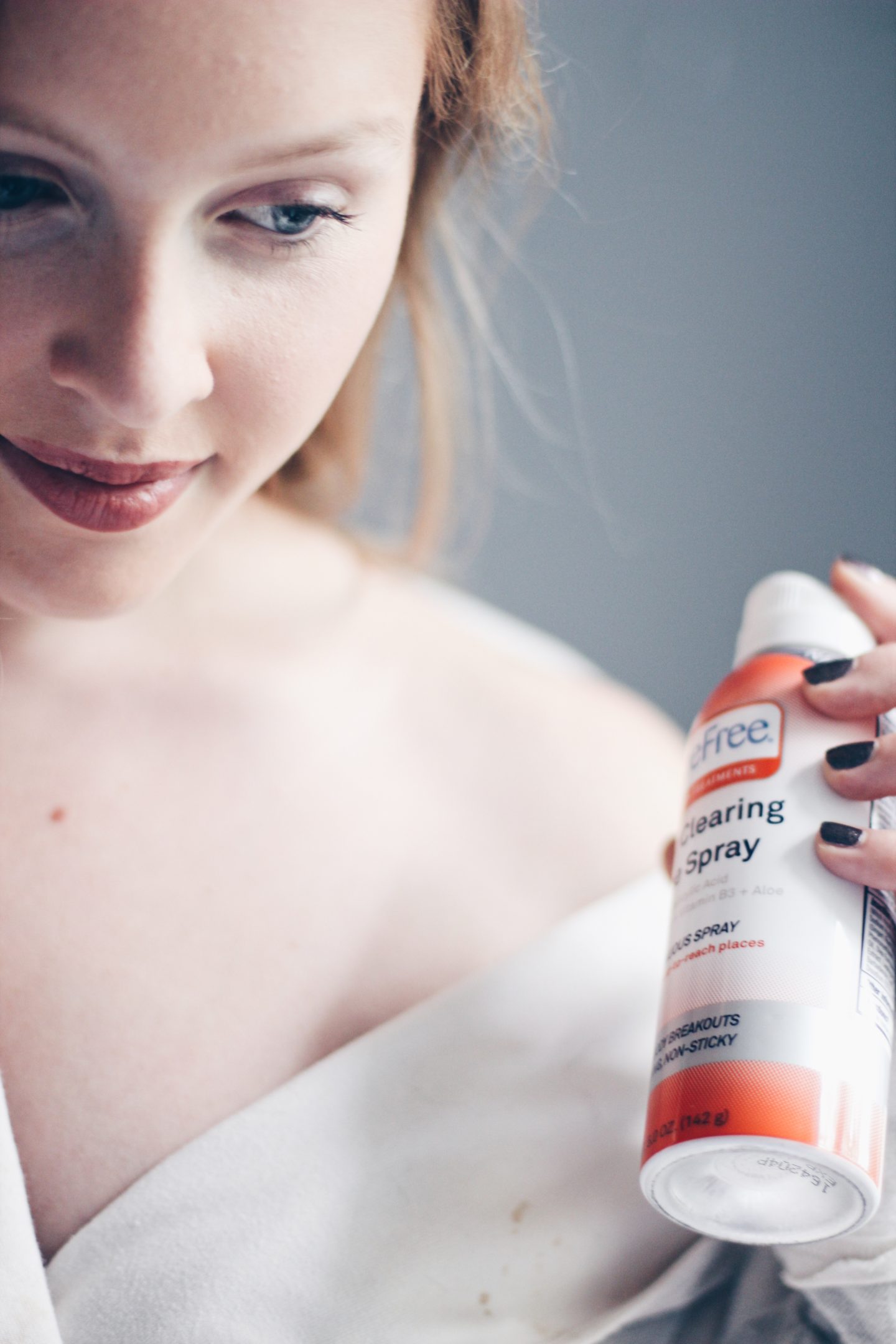 Cheers to being confident in my own skin…literally!
Do you have any summer skincare tips? I'd love to hear about them below!