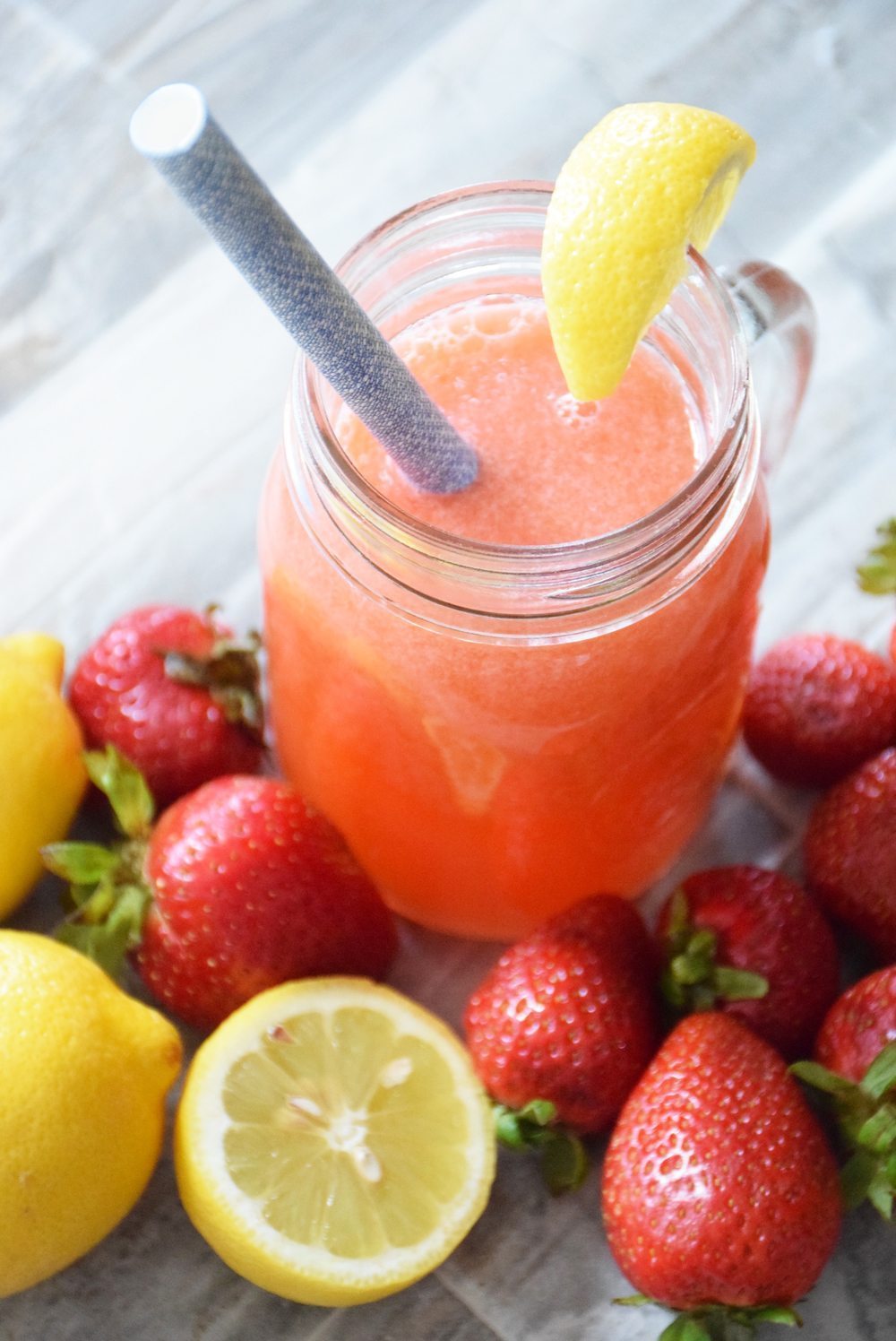 Though I've gotten much better at getting in my daily 64 oz. of water, there are times when cravings for sweet and playful beverages hit me like a ton of bricks. For one, I love lemonade. Always have, always will. It's the first thing I look forward to at any festival or carnival I hit up, and I don't allow myself to feel guilty for these sugary indulgences since they are so few and far between. Festival lemonade also gleefully reminds me of being a kid again, so sipping on it every once in awhile is a tradition that I'm all too happy to keep going, no matter how many delightful grams of sugar are involved.
That being said, I also like to have DOTW (drinks other than water, ha!) on hand regularly…they just aren't as sugary and disruptive as carnival lemonade. Unsweetened iced tea and seltzer water are usually enough to quench any DOTW craving, but last week I had a major urge for some strawberry lemonade. There was no way in hell I was going to buy any of the super processed, high fructose corn syrup doused store-bought brands, so I thought I'd give making my own a whirl.
And guess what? It was a smashing success.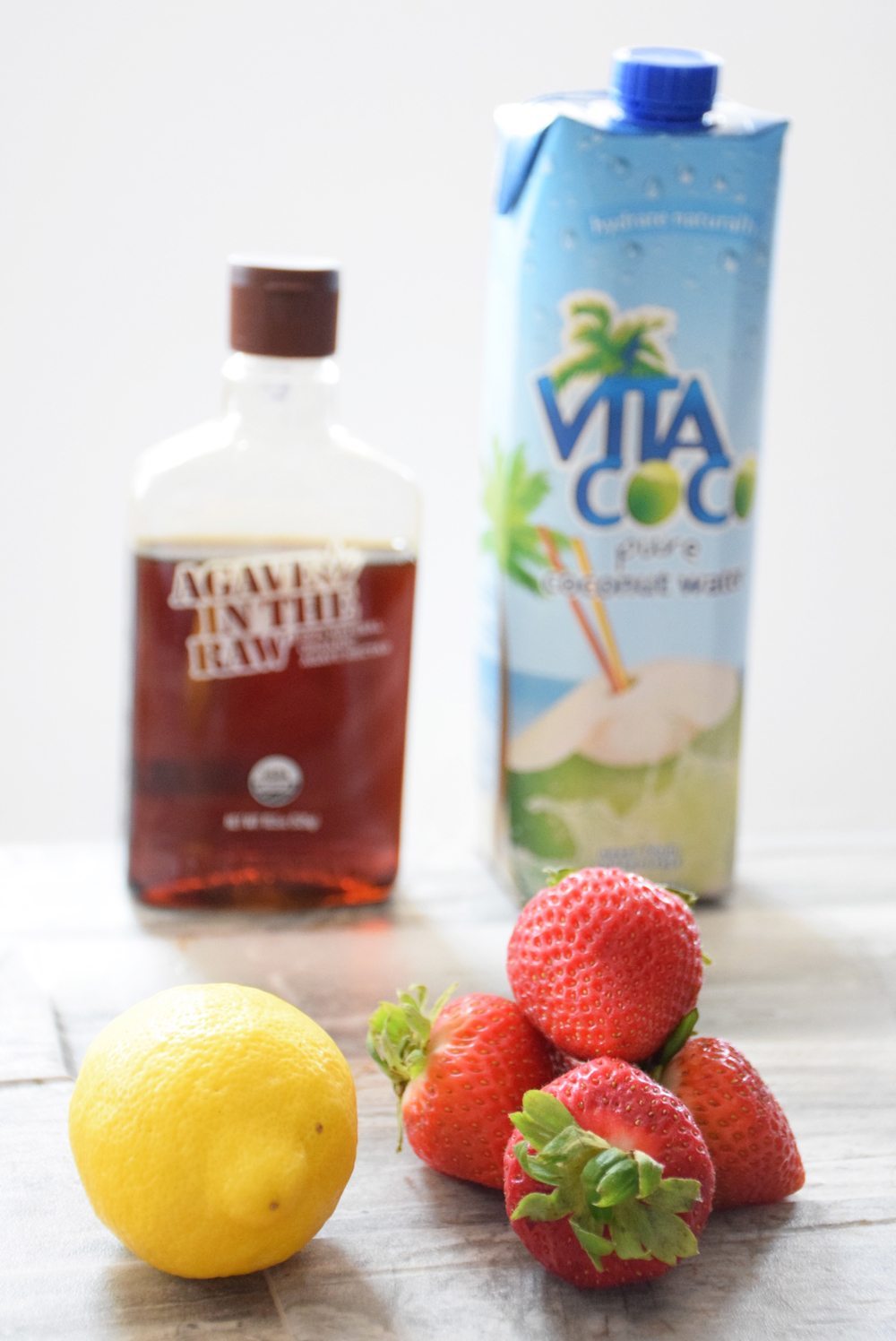 By incorporating just four natural ingredients, I was able to make a healthier and more hydrating version of strawberry lemonade than if I had gone to the store to purchase some. Not to mention, it tasted much better since it was so fresh.
INGREDIENTS:
– 20 strawberries
– 6 lemons
– 1 box coconut water
– 2 tbs. agave nectar (or preferred natural sweetener)
DIRECTIONS:
– Juice the 20 strawberries and 6 lemons
– Add all ingredients to a pitcher and stir/shake/mix
– Enjoy!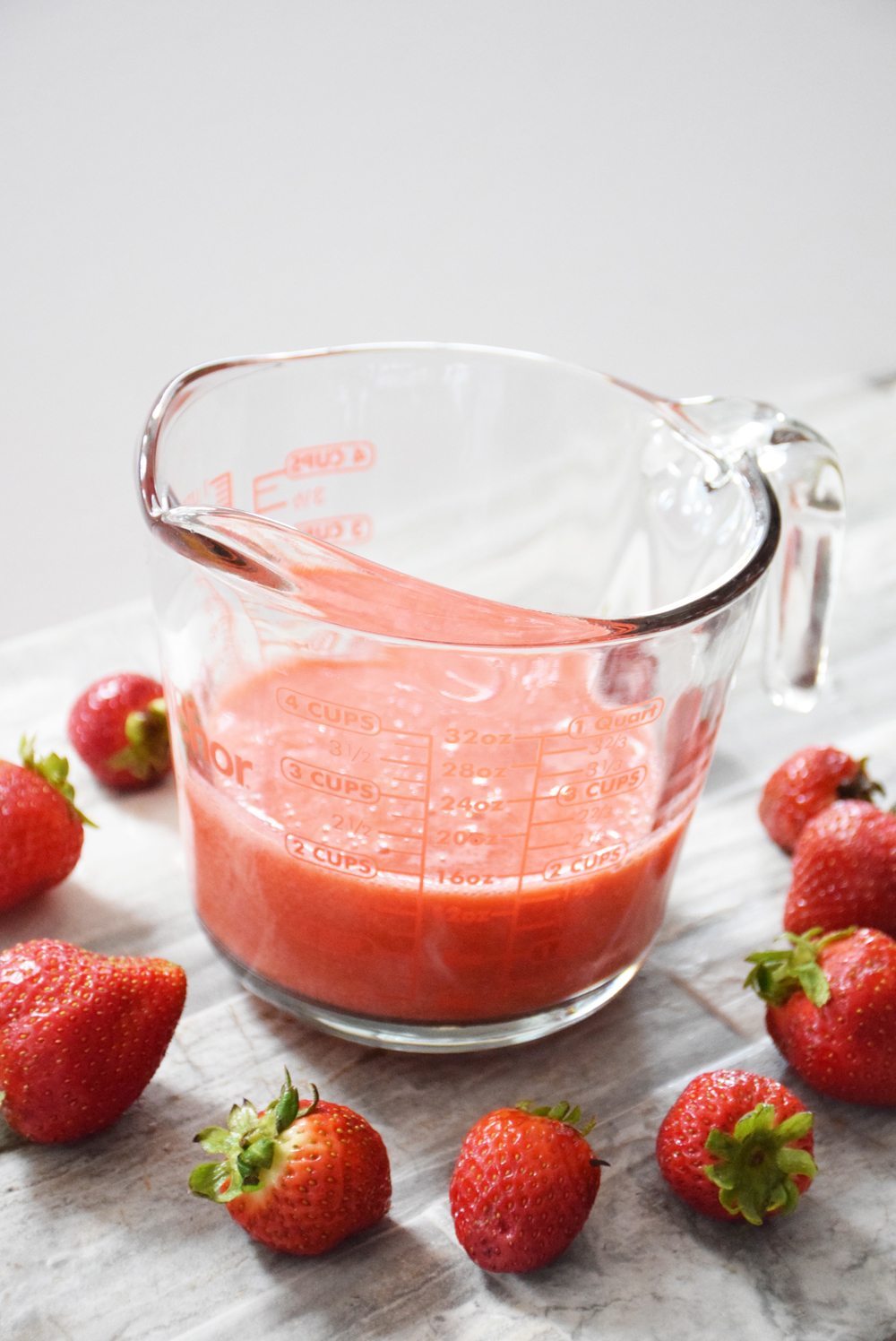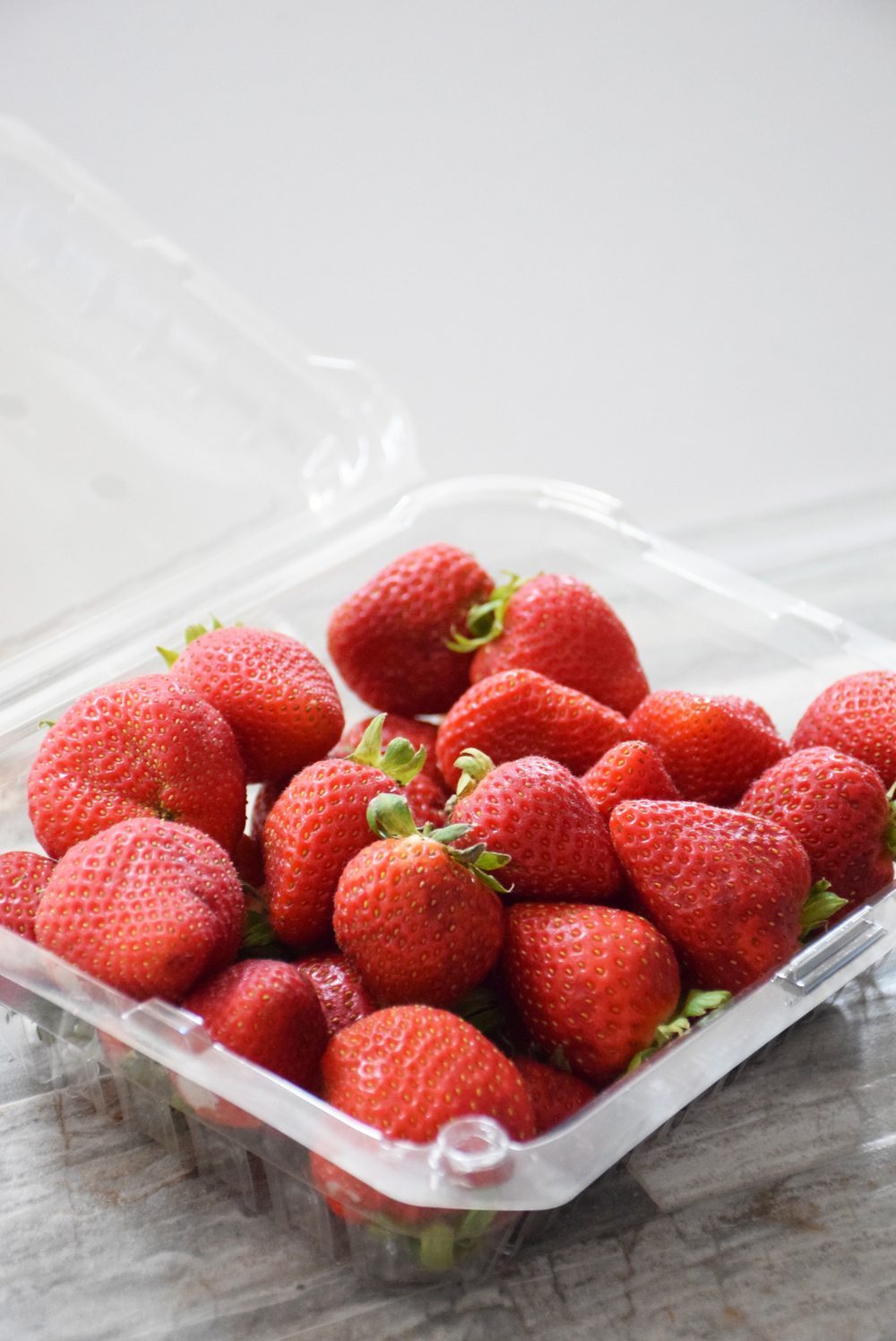 Here are a few things to know about the ingredients in this recipe:
Strawberry Juice: According to this source, strawberry juice contains several nutrients (namely vitamin C and folate) that can help promote long-term health and reduce the risk of cancer. The high vitamin C content in strawberry juice also aids in boosting collagen production, which is great for both healthy, youthful skin and the overall strengthening of tissues in the body.
Lemon Juice: Lemon juice is a great ingredient for balancing the body's pH, and also offers loads of vitamin C and potassium. The pectin found in lemon juice has also been shown to aid in weight loss struggles (source).
Coconut Water: Coconut water is a great low-cal alternative to sports drinks, and does an excellent job of hydrating the body (source). It also contains antioxidants and cytokinins, which may help to slow down the aging process.
Agave Nectar: Agave nectar is 1.4-1.5 times sweeter than sugar, so you'll need less of it than traditional sweeteners. It's also naturally gluten free with a low glycemic index. However, it's not necessarily more nutritious than sugar or honey, so do your research and decide which sweetener you're comfortable using in your kitchen. This is what I had lying around, but there's plenty of options out there! The point of making your own lemonade at home is not only because it tastes better, but also because you get to choose what goes in and what doesn't.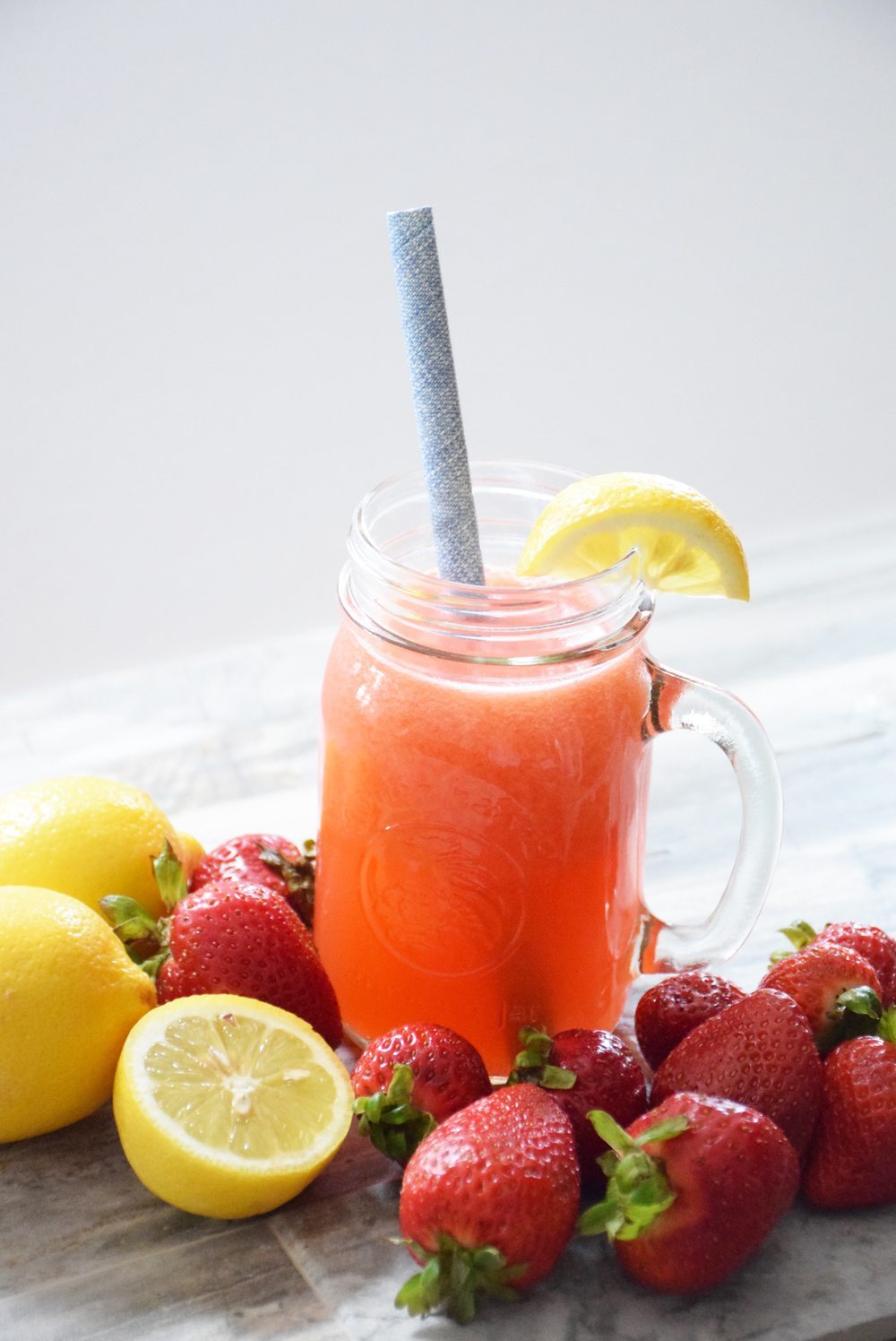 Let me know what you think of this recipe in the comments below! Is anyone else obsessed with traditional carnival lemonade like I am? #guiltypleasure
Also, don't forget to stay tuned below for more behind the scenes access and exclusive recipes! 
Happy monday!
xx,
Holly