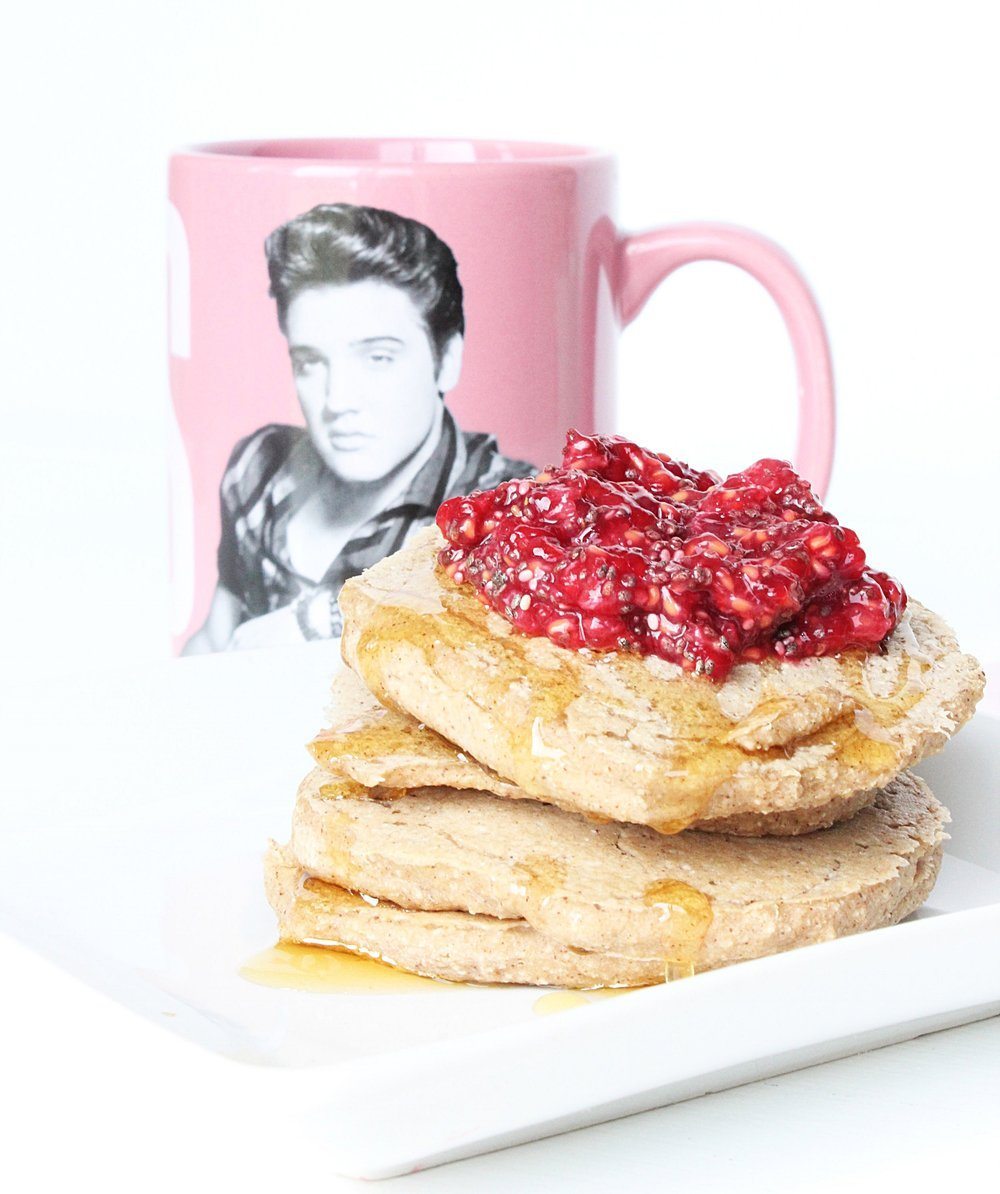 This recipe is a part of the "Beauty Food" series here on The Blonde Chiffon, which is all about sharing quick, clean eats that are good for your body both on the inside and out!
+++
I've said it before, and I'll say it again: I'm not a big fan of breakfast. There's just something about it that rubs me the wrong way.
It also probably doesn't help that I really hate eggs.
That being said though, I do love my antioxidant-rich pomegranate avocado toast and the occasional batch of banana pancakes. I recently whipped up a few fluffy, vegan (minus the honey I drizzled on top) 'cakes, and they were so good that I knew I just HAD to share with you guys.
Oh, and I topped them with my favorite 3-ingredient raspberry chia jam. So yes, I'm definitely a breakfast eater when I make these babies.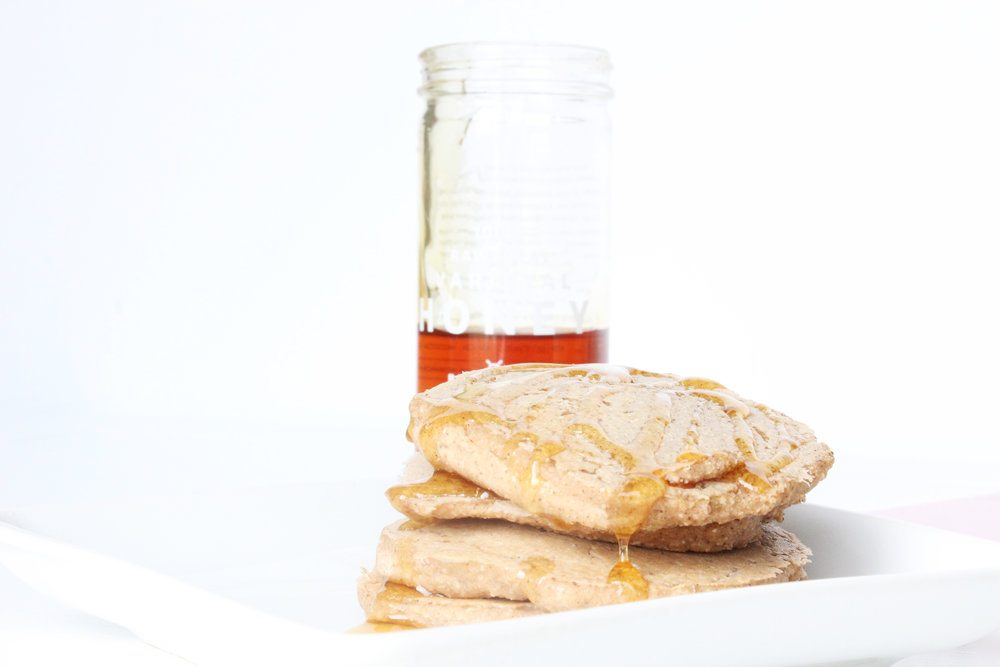 Here's the EASIEST freaking recipe:
directions
Banana Pancakes
+ Mix all ingredients in a blender
+ Cook pancakes as usual, spreading batter out with a spoon to get the right shape (the batter is thick)
+ Eat plain or top with raspberry chia jam, honey, and/or chocolate chips
P.S. They cook fast, so be careful!
Raspberry Chia Jam
+ Add all ingredients to a bowl and mash with a fork until you achieve a jam-like consistency
+ Add a generous scoop to pancakes and enjoy!
INGREDIENTS: 
Banana Pancakes
+ 1 banana
+ 1 cup rolled oats
+ 1/2 cup almond milk
+ 1/2 teaspoon cinnamon
Raspberry Chia Jam
+ Large handful raspberries
+ 1 tablespoon chia seeds
+ Pinch of stevia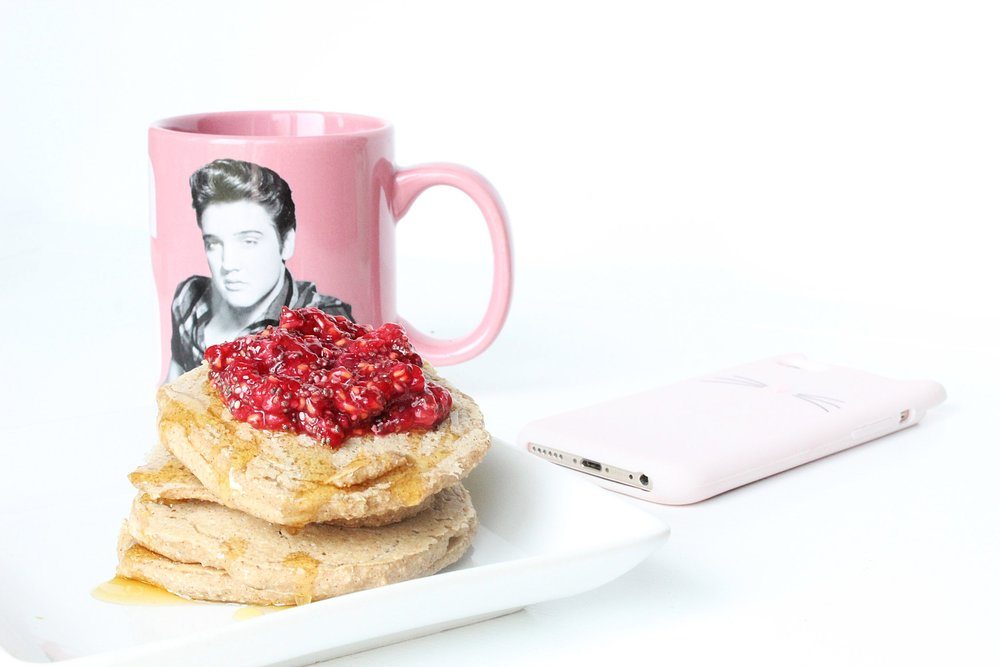 ---
And my favorite thing about this recipe? Not only is it super easy and low-budget, but it's also quite healthy (hence why it's a part of the "Beauty Food" series!). Here's a little bit more on why/a breakdown of my favorite ingredients:
raspberries
Dubbed as "nature's candy", raspberries are of course one of my favorite superfoods. They're great for heart health due to an abundance of flavonoids and a high polyphenol content, and they also contain a mass of antioxidants, which are great for both skin health and even cancer prevention (antioxidants work against free radicals, which inhibits tumor growth and decreases inflammation in the body). Raspberries also contain high levels of both fiber and water, which promote healthy digestion and detoxification.
+ Read more on the power of Raspberries here
bananas
Similar to raspberries, bananas contain antioxidants. They're also loaded with nutrients and act as as a prebiotic, aiding with digestion [source].
chia seeds
Chia seeds are a great source of plant protein, which makes them perfect for this morning meal. The blend of nutrients in the seeds (healthy fats, protein, minerals like zinc, etc.) are also known for contributing to healthy skin, hair, and nails!
+ See more on chia seeds here
So, what's your go-to morning meal? Are you a breakfast eater? 
ALSO: Be sure to post a pic of this recipe if you do try it at home on Twitter or Facebook, cause I'd love to share it!