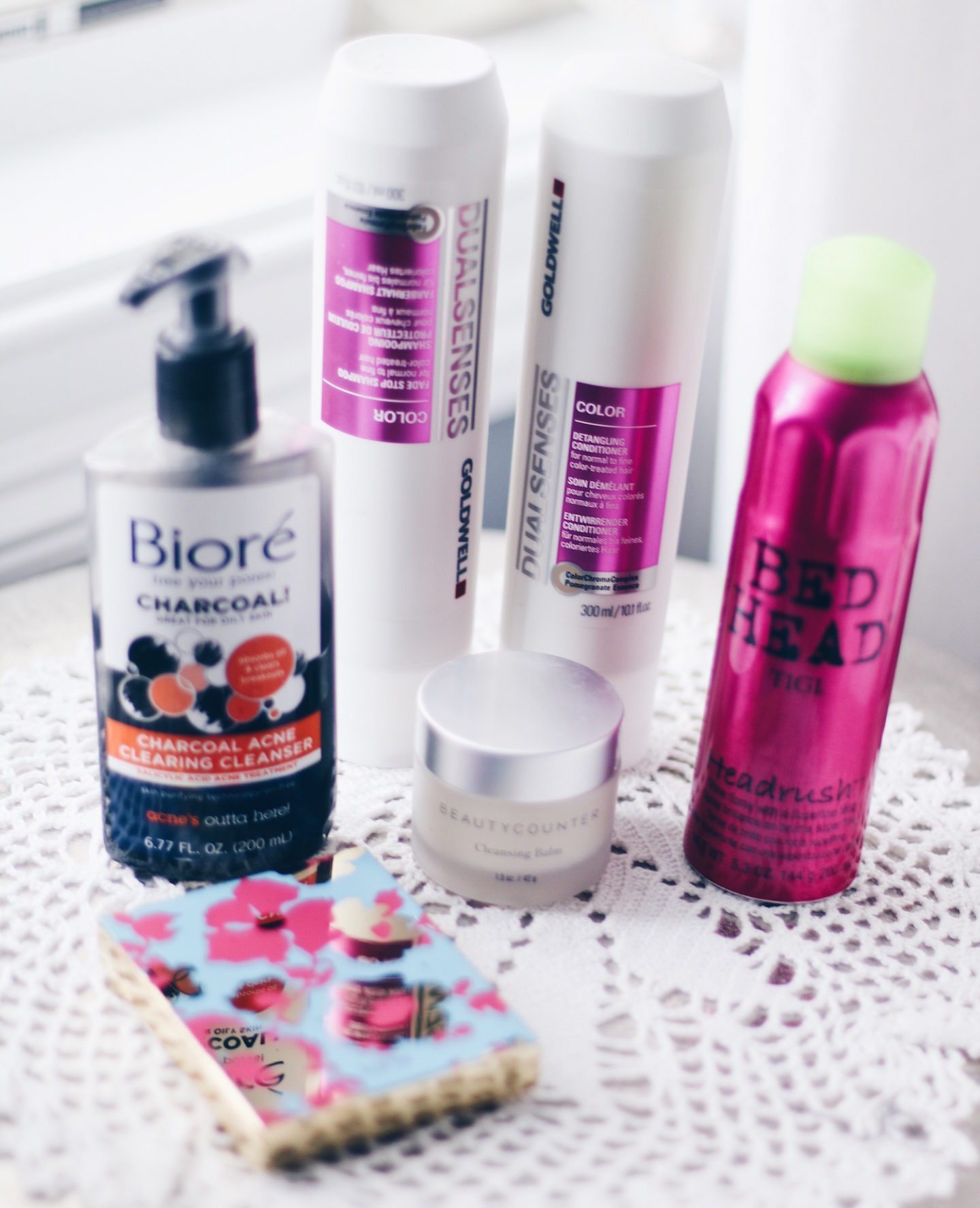 How is October already over?! It's crazy to think that we're heading into yet another holiday season, when it feels like it was just summer a hot second ago. That being said, I'm super excited to share today's end-of-the-month post (I know it's November 1st, but close enough right?) ☺️. October was a great month for me in terms of finding some new beauty products I love, as well as reviving some of my old go-to's.
One of my goals is to start testing out and sharing more beauty products here on hollyhabeck.com, in addition to the increased fashion coverage. I hope that you enjoy learning more about the products I've been using on a regular basis each month, as I plan on making this a monthly series! You'll be able to locate all of my monthly favorites under the beauty tab at the top of this site. Just hover over that and click on the dropdown that says "Monthly Beauty Buys".
Now let's start this thing off with a bang and get into the best beauty buys of October:
My hairdresser recently recommended I start using Goldwell Dualsenses Color Fade Stop Shampoo & Conditioner as my primary hair care products. Coloring your hair can be expensive, so I definitely recommend this brand if you're worried about fading. I'm aiming for a cooler blonde tone lately, so this is a complete essential. It also smells good, and I've heard a lot of positive reviews from other ladies who use it too.
I've been on the hunt lately for a new facial cleanser, and I've been hearing so much about the benefits of activated charcoal that I just had to try Biore's Charcoal Acne Cleanser. I'm loving this product because it doesn't dry out my skin, and yet it makes me feel SO clean after using it. I've gotten in the bad habit of not washing my face in the morning, but I've actually started to do it again — just because I love the way this product feels that much.


Beautycounter's Cleansing Balm is one of those products I mentioned that I've come back to after some time. I received this makeup remover in a subscription box months ago and, though I loved it, I ended up misplacing it after I moved back from college. I rediscovered this cleansing balm though, and I was instantly reminded why I love it so much. If you've ever had some hard to remove mascara or other eye makeup, meet your new BFF. Though it carries a steep price tag, you need so little of this product to get the job done that I say it's totally worth it! I can't see myself running out of this gem for at least the next year or so…it works that well.
If you follow along on Facebook, you may have seen my post on the 70% off flash sale Tarte was having a few weeks ago. It. Was. Amazing. This eye and cheek palette was just one of many items I purchased during the one-day sale (I did an unboxing of everything on my Instagram story though), and I'm totally smitten. I've never really been able to master the smokey eye, but this palette comes with the instructions and colors to create the perfect subtle, yet glam look.
Last but not least, I've started using my Tigi Bed Head Headrush spray again this month after a visit to my hairdresser. I've always loved this shine spray, mostly because it smells AMAZING. It also works wonders, giving hair that perfect final touch. I was so happy to get my hands on another bottle of this liquid gold!

What's your favorite beauty product you've found recently?