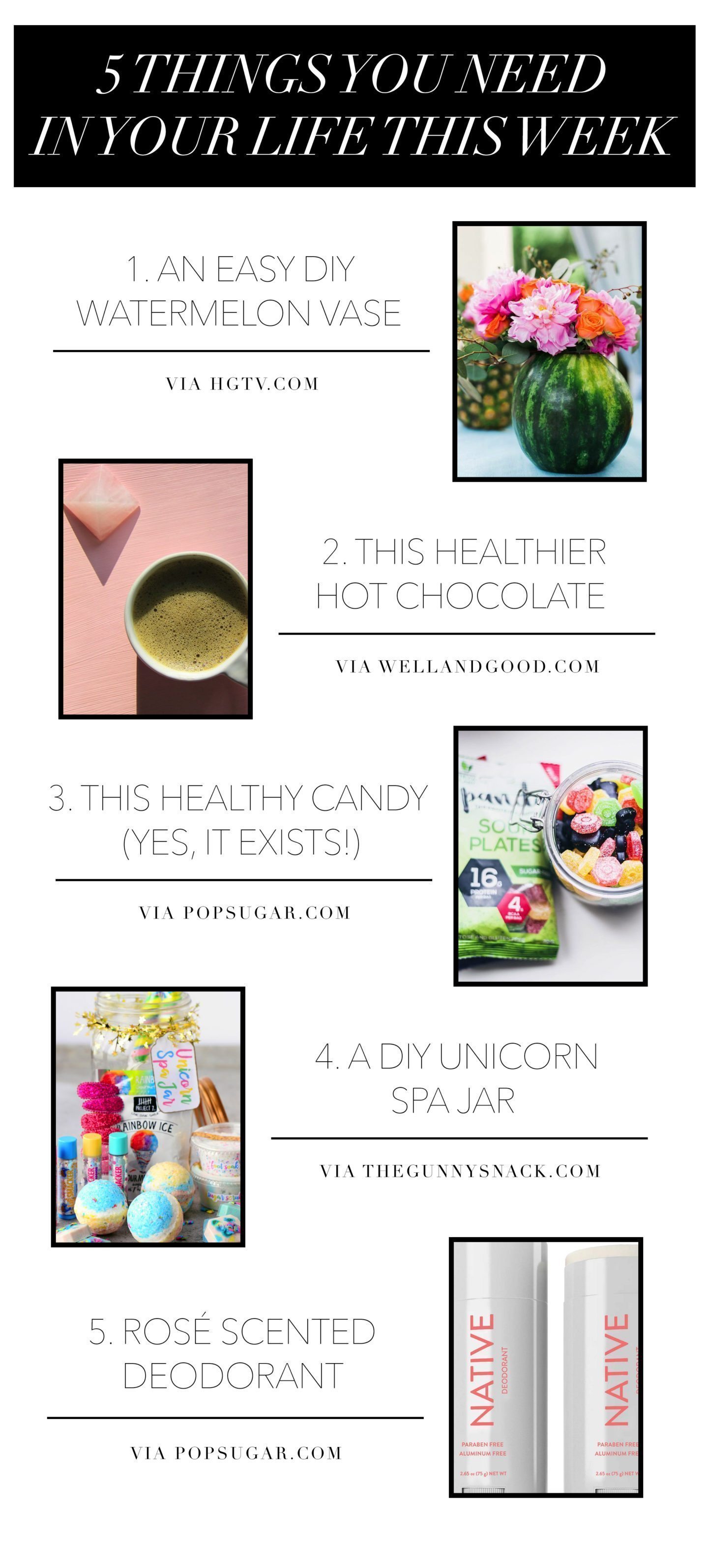 "5 Things You Need in Your Life This Week" is a recurring series on HollyHabeck.com. New edits are published every Friday, and the intent is to give readers a concise list of amazing thoughts/projects/trends to try over the weekend and into the next week. I hope that you are as inspired as I am by these finds! 
+++
How is it already September 1st?!
I. am. SHOOK.
Wasn't it just Independence Day weekend, like a few weekends a go? Somehow the summer always seems to breeze by. That being said, I'm all in for fall. Bring on the pumpkin spiced lattes and other #basic (but oh so amazing) seasonal classics.
Since we're heading into a long weekend here, I hope ya'll will have some time to try a few more my favorite finds. Whether you create this easy DIY watermelon vase to show off at your Labor Day pool party or simply do some research on this healthier hot chocolate (which is perfect heading into fall, no?), I think you'll love what I've included this week.
You'll rarely see me include a DIY in one of these roundups that doesn't include the word "easy". Ain't nobody got time to spend hours on crafts, right? I love this watermelon vase from HGTV, because it's pretty AND easy AF. It'd also make the perfect centerpiece for an upcoming Labor Day celebration!
I'm always on the search for healthier versions of my favorite eats. With the fall upon us, I just couldn't resist sharing this healthier hot chocolate I stumbled upon. This particular mix includes superfood ingredients such as matcha and maca, too! LOVE.
It wasn't enough to just include healthier hot chocolate in this week's 5 Things post. I had to take it a step further when I found out about this HEALTHY CANDY. These protein-packed gummies are produced by Swedish company Pandy, and they look delish. And did I mention they contain zero sugar, since they're sweetened with Stevia? They're that amazing. The only catch is, they're only sold through a few online shops in the UK, which don't ship the US 😭 Still worth mentioning though I thought, since hopefully something like this will come to the US soon!
While there's not really any major holidays coming up to craft for, this DIY Unicorn Spa Jar was too pretty to pass up this week. It'd be perfect for a friend's birthday or something!
When you read the words rosé scented anything, you just don't say no. Am I right? I can definitely get down with this natural, paraben & aluminum free wine deodorant.
So, what are your plans for the long weekend? Anything fun? Do tell!
Have a safe & fun long weekend! xx