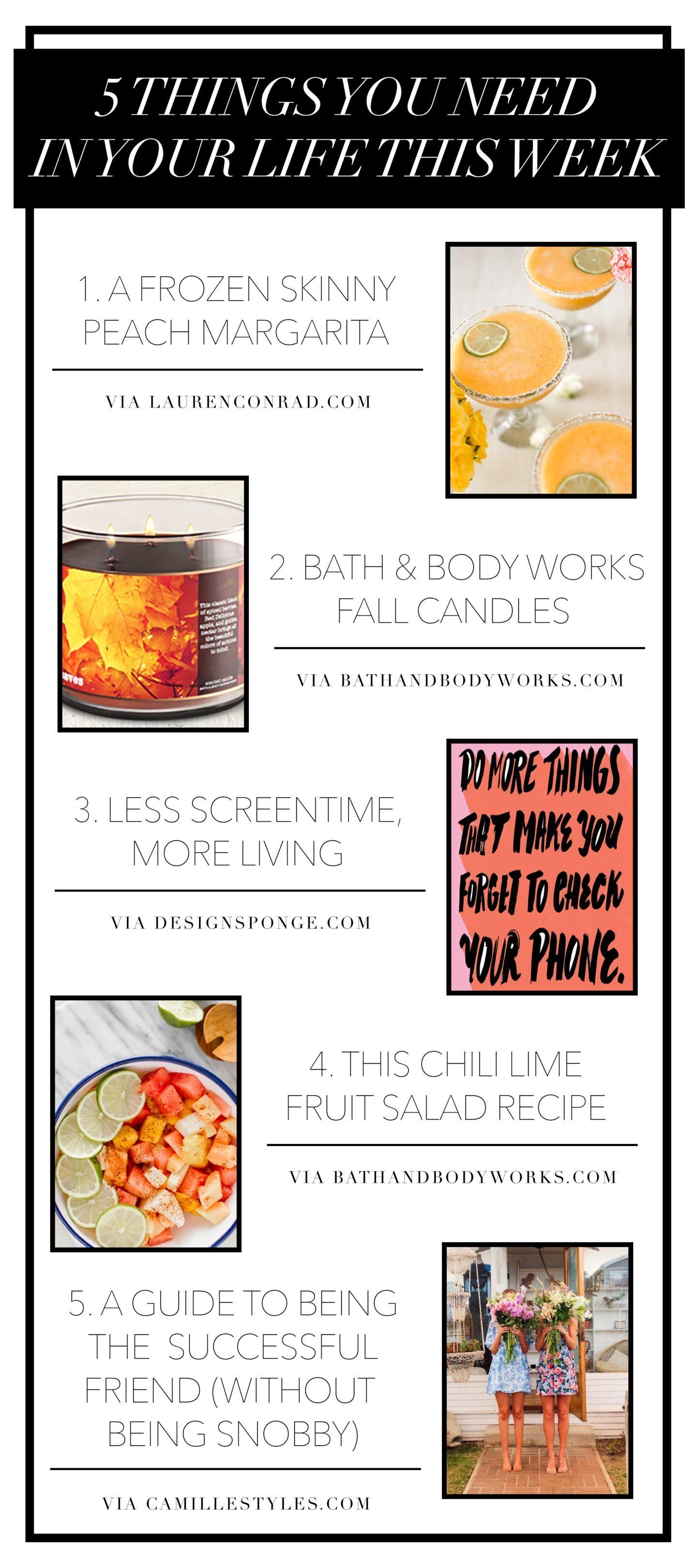 "5 Things You Need in Your Life This Week" is a recurring series on HollyHabeck.com. New edits are published every Friday, and the intent is to give readers a concise list of amazing thoughts/projects/trends to try over the weekend and into the next week. I hope that you are as inspired as I am by these finds! 
+++
Hello, hello! Today is very exciting, because we're bringing back"5 Things You Need in Your Life This Week". I started this weekly series last February (see the first edition here), but things fizzled when I started to focus on rebranding and designing a new site in the spring.
Now that all of that good stuff is done, I'm pumped to reinstate "5 Things You Need in Your Life This Week" as a weekly series again, with a new edition premiering each Friday. I hope you love it!
Let's get to it ☺️ …
A frozen marg always hits the spot on a hot day, doesn't it? I'm particularly stoked to try this recipe, since it contains fresh peaches and orange juice. Yum!
Can we all take a moment to appreciate the fact that Bath & Body Works has officially released their Fall 2017 candles? If you've read this post, you already know just how much I adore their marshmallow scents, and I'm sure the others are just as delicious 😍 I definitely want to grab a few of these beauts soon!
I saw this downloadable wallpaper on the Design Sponge blog, and I knew I had to share. One of my biggest pet peeves is when people are constantly on their phones (Rich, I'm talking 'bout YOU 🙄), and I think this quote on doing more things that make you forget to check your phone is the perfect advice for us all during these tech-y times. Live in the present moment. Embrace REAL life.
Lauren Conrad does it again with this chili lime fruit salad recipe. I usually try to get recipes from a few different sources for my 5 Things posts, but I couldn't not include this delicious concoction. It's so unexpected, and I also love lime. I have a feeling this is going to be the perfect poolside snack…washed down of course by a frozen skinny peach margarita 😉
I thought this article over at the Camille Styles blog was interesting. It's important to be proud of your own accomplishments, but it can be tricky to enjoy livin' large when you see some of your best girls struggle in their own career, relationships, etc. Luckily, this guide provides actionable ways to celebrate your wins without coming off as a total snob. It's definitely a must-read!
What are YOUR plans for the weekend? Anything you're looking forward to?